History
Submarine K XVII was completed at the Feijenoord shipwright in Rotterdam in 1933. Two years later, she sailed to the Dutch East Indies for service in the Royal Netherlands Navy. She would serve the Royal Netherlands Navy in the Dutch East Indies for several years. On December 21, 1941, after the colony had been invaded by the Japanese, K XVII, captained by lieutenant Hans. C. Becançon, ran into an enemy mine field and sank with all 36 hands.
Search for the K XVII
In 1980 a bizarre conspiracy theory was put forward by a Sir Christopher Creighton, involving the sinking of K XVII, Winston Churchill, Queen Wilhelmina of the Netherlands, and the Japanese attack on Pearl Harbour. The idea received much public attention and provoked Hans C. Besançon Jr., the son of the lost boat's commander and himself a retired officer of the Royal Netherlands navy, to undertake a crusade to find his father's resting place and disprove the fabrications.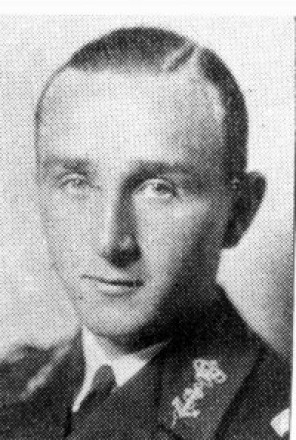 Description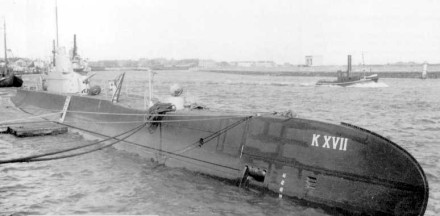 Status
Condition: largely preserved in situ
Heritage status: legally protected
Discovery
In 1981, Hans Besançon Jr., son of K XVII's commanding officer, pursued a lead from a Singapore-based treasure diver, who reported to have located a sunken Dutch submarine in the South China Sea at a depth of around 50 m. Divers were sent down to the wreck, and reported that the submarine had sunk deeply into the mud bottom. Still, they managed to recover the steering wheel from the exposed bridge. When its serial number was checked against naval records, the boat was positively identified as K XVII. Besançon's quest and its findings had attracted considerable public attention, so when Swedish diver Sten Sjöstrand reported finding another sunken submarine in 1995 that he suspected to be Dutch, the naval authorities were interested. Initiating a search for family members of the men lost on O 16, they organised an expedition to examine the wreck.
Even though the wreck of K XVII is a designated war grave, World War II wrecks such as this one are under constant threat of being commercially salvaged.
References
Münching, L.L. (1978).
Schepen van de koninklijke marine in de 2e wereldoorlog. p 44.