History
In 1930, construction started on the Royal Netherlands Navy submarine K XVI at the Rotterdamsche Droogdok Maatschappij shipwright. The ship was intended for service in the Dutch East Indies, where it arrived in 1935. Six years later, in November 1941, the colony was about to be invaded by Japan. K XVI was grouped with three other submarines in the 3rd division, which was stationed near Borneo, as the Japanese forces were expected to land there.
On the December 24 of that year, during the Battle of Borneo, the Japanese destroyer Sagiri was sighted by K XVI. Two torpedoes fired at the Japanese vessel hit target and the ship was sunk. K XVI's success, however, was short-lived. The next day at 11:45, not far from the previous scene, K XVI was hit by a Japanese torpedo fired from the submarine I-66. The Dutch submarine and all 36 of her crew members were lost.
Discovery
Since 2003 the Foundation for surviving relatives of Dutch World War II submarine crewmen has attempted to locate the wreck of K XVI. After many unsuccessful attempts, a wreck was finally found by sports divers in October 2011, lying bow upright on the sand at a depth of 45 m in the South Chinese Sea. Expert assessment by the Royal Netherlands Navy confirmed that the wreck was that of the K XVI.
Description
The Hr.Ms. K XVI was a Dutch K XIV class (K stands for colonial) submarine of the Royal Netherlands Navy. It was built in 1930-1933 at the Rotterdamse scheepswerf RDM, and commissioned January 1, 1934.
Length: 73.6 m
Width: 6.5 m
Beam: 3.8 m
Displacement: 865/1045 tons
Armament: 8 x 21" torpedoes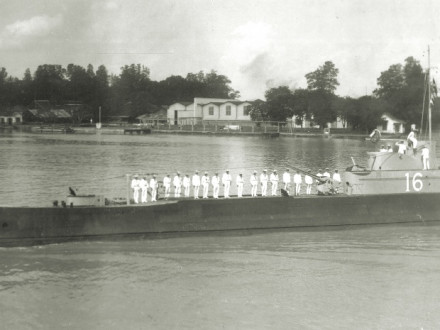 Status
Even though the wreck of K XVI is a designated war grave, World War II wrecks such as this one are under constant threat of being commercially salvaged.