History
De Landman ging verloren in de Tweede Engels-Nederlandse oorlog Tijdens Vierdaagse zeeslag verbrandde het schip op 14 juni 1666..
Specs
Expeditie naar Danzig 1656, om de Zweedse blokkade te breken. Kapitein was Abraham Verhulst. Eskader o.l.v. Jacob van Obdam Wassenaar.
Slag in de Sont (8-11-1658) om Denemarken te helpen tegen Zweden o.l.v. Jacob van Obdam Wassenaar.. De Landman veroverde het Zweedse schip Rosen. Kapitein was Evert Anthonissen Marre Abraham Verhulst. De Brederode ging verloren en viceadmiraal Witte de With sneuvelde.
Slag bij Lowestoft (13-6-1665), o.l.v. Jacob van Obdam Wassenaar. Kapitein Hugo van Nieuhof. Het vlaggeschip De Eendracht ontplofte, Obdam sneuvelde.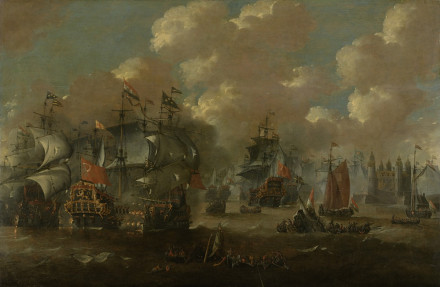 Rijksmuseum Amsterdam
Tweede Engels-Nederlandse oorlog
De Vierdaagse Zeeslag werd uitgevochten tussen de Engelse kust en de Vlaamse banken. Vlootvoogd was Michiel de Ruiter. Het was een van de langste zeeslagen in de Nederlandse geschiedenis. Samen met de door de Nederlanders gewonnen Slag in de Baai van Bergen in 1665 en de latere succesvolle Tocht naar Chatham in 1667 zorgde de overwinning tijdens de Vierdaagse Zeeslag voor de uiteindelijke Nederlandse overwinning in de Tweede Engels-Nederlandse Oorlog.
Description
Gebouwd, Amsterdam, Bicker 1653
Bewapening: 42-48
| | |
| --- | --- |
| Master | Nieuhof H. van |
| People on board | 200 |
| Length | 130 feet (39.6 m) |
| Width | 32 feet (9.8 m) |
| Draft | 13 feet (4 m) |
References
Bender J.A. (2014).
Dutch Warships in the Age of Sail 1600 - 1714 p. 198.