History
In 1652, the keel was laid at the Admiralty shipyard in Rotterdam for a new Dutch Admiralty flagship. The project was led by shipbuilder Jan Salomonszoon van de Tempel, who had also designed the previous flagships Aemilia (1633-1647) and Brederode (1644-1658). A year later, however, the project was overtaken by the United Provinces and moved to Goossen Schacks wharf in Dordrecht. When the Eendracht, as the ship was named, was completed in 1654, it was largely armed with guns from the Aemilia.
Ten years later, having participated in several major actions, such as the Battle of the Sound (1658), the Eendracht had in turn become obsolete and was to be replaced by the 7 Provinciën. Another relocation of the cannons, however, would never take place. The Eendracht exploded during the Battle of Lowestoft in 1665.
Cluster of cannons
When the Netherlands Institute of Ship and underwater Archeology (NISA), a predecessor to the Cultural Heritage Agency of the Netherlands, mapped all cannons that had been salvaged in the North Sea in the 1960s, 1970s and 1980s, a pattern began to emerge. It turned out that the largest cluster of finds, near the Nieuwe Ankerplaats, consisted exclusively of bronze cannon made by Cornelis Ouderoggein from Rotterdam and Coenraet Wegewaert from the Hague. Also considering the large calibre of the guns, NISA concluded that the cluster indicated a wreck site of a large and important warship, perhaps even a flagship. The only one such ship to have sunk in this region, and in the period suggested by the cannon turned out to be the Eendracht.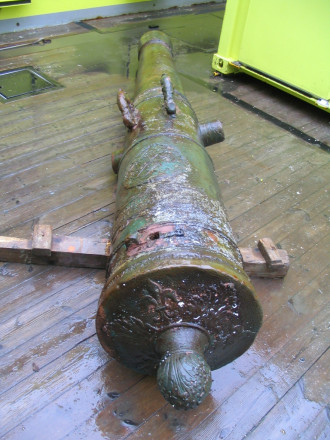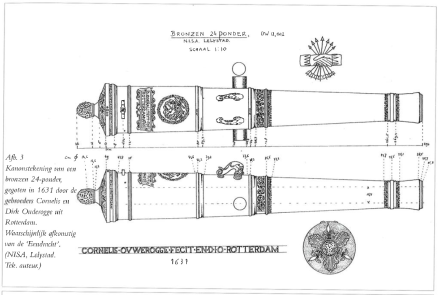 Description
The Eendracht was a ship-of-the-line and flagship of the Dutch Rotterdam (Maze) admiralty, Dutch Republic. It was built in 1655 at the Goossens Schacks van der Arent schipswright. It was designed by Jan Salomonsz van den Tempel.
Armament: 58 (1654); 72 (1665)
| | |
| --- | --- |
| People on board | 409 |
| Length | 152 feet (46.3 m) |
| Width | 38 feet (11.6 m) |
Status
Condition: (partly) preserved in situ, no published archaeological documentation available
Heritage status: legally protected
Involved institutions: Cultural Heritage Agency of the Netherlands
Shipwreck
In 1987 the Dutch Ministry of Infrastructure and the Environment was conducting a survey of the North Sea seabed using a remotely operated vehicle. At the Nieuwe Ankerplaats, at a depth of around 38 m, they stumbled upon an area full of bronze cannon, fragments of wooden ship construction and rope waving in the current. Similar finds, though in smaller numbers, were found in the vicinity of the site, in correspondence with the explosive fate of the Eendracht. Because of the great depth however, the area has never been subject to archaeological investigation.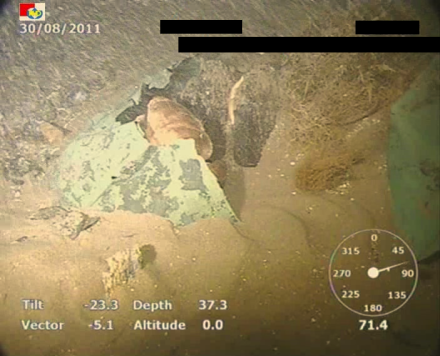 References
Aitzema, L.
Zaken van staat en oorlog, XXXXV, 383.
Wikipedia.
Wikipedia entry Eendragt (English).
Wikipedia.
Brinck, N. (2004).
Geschut voor de 7 Provinciën.
7 Provinciën Cahier 1.
Plantijn Casparie Almere.
Vos, A. (2009).
Bronzen scheepskanon uit 1631 boven water.
Nehalennia 163.
Leven en bedrijf van den vermaarde zeeheld Cornelis Tromp.