History
The German battlecruiser SMS Lützow was commissioned in 1916, replacing the old protected cruiser Kaiserin Augusta, and joining the I Scouting Group. Despite this fleet's reputation as an active German force during World War I, the Lützow saw little action during its first few months, until it was put to the test during the Battle of Jutland on 31 May - 1 June the same year, serving as the famous German admiral Franz von Hipper's flagship.
The vessel proved its worth, sinking the British HMS Invincible and perhaps also the HMS Defence. However, having been hit by an estimated 24 heavy-caliber shell hits during the course of the battle, the ship was unable to make the return voyage and was sunk deliberately by a German submarine, after its remaining crew had been evacuated.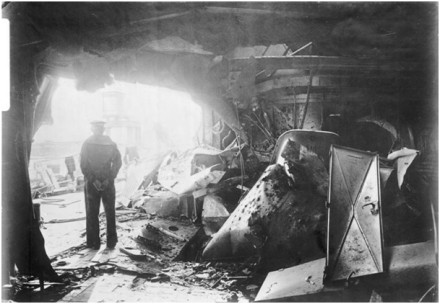 Shipwreck
The wreck of the SMS Lützow is known to have been commercially salvaged by a German firm in 1960. Further evidence of this action was found by nautical archaeologist Innes McCartney, who relocated the wreck in 2000-01, finding it in bad condition, lying upside down on the seabed. Still, much of the ship has remained recognisable. As a war grave, the shipwreck, along with the other Jutland wrecks, is protected under the Protection of Military Remains Act 1986.
Description
Derfflinger-class battlecruiser
Navy: Imperial German Navy
Length: 210,4 m
Beam: 29 m
Draft: 9,2 m
Propulsion: Steam turbines
References