History
French: Bataille de Béveziers or Bataille du cap Béveziers; traditional Dutch name: Battle of Bevesier.
was a naval battle near Beachy Head, South England, fought on July 10, 1690 as part of the Nine Years' War. The naval battle was fought between the British-Dutch fleet under Admiral Arthur Torrington and the French fleet under De Tourville.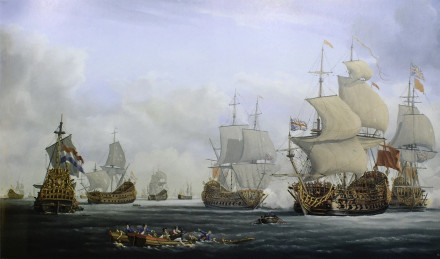 Willem III (Dutch William) was since 1688 (Glorious Revolution) king of England and governor of the Dutch Republic. The deposed Catholic King James I tried to recapture his throne via Ireland with the support of Louis XIV of France. The strong French fleet sailed into the Channel at the end of June. The Allied fleet, led by Admiral Arthur Torrington and the Zeeland Admiral Cornelis Evertsen, was numerically inferior. Torrington did not yet want to confront. However, he was explicitly instructed by the English cabinet of war under Queen Maria to fight.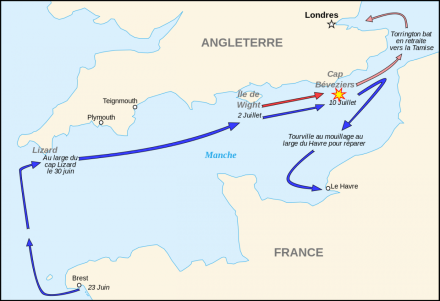 The Battle
Both fleets formed their battle line near Eastbourne. The Allies formed three squadrons. The Dutch admiral Evertsen led the white squadron (22 ships) and formed the vanguard, Torrington formed the center with red squadron and the rear squadron, the blue squadron, consisted of English and Dutch ships led by Ralph Delaval.
In the battle that followed, the Dutch squadron was mainly attacked and largely destroyed. of the 22 Dutch ships, only 3 remained deployable. 8 line ships were lost. All but one (HMS Resolution) were Dutch ships. The French did not lose a single ship during the battle.
Aftermath
Although the French now controlled the sea, they let the two English squadrons and the remnants of the Dutch squadron escape to the mouth of the Thames. The French did not lose 1 ship.
Admiral Torrington was accused afterwards that he had done far too little to help the Dutch squadron. He was court-martialed but acquitted.
The French achieved the victory but did not exploit it. The British fleet was able to recover. The State fleet, on the other hand, would never become the old one again.
French Admiral Tourville was heavily criticized for failing to exploit this advantage after his big win. He was then released from his command.
Torrington did not fare much better, although he was acquitted, but was fired by King William III as commander of the English fleet.
Description
References