History
The Oseberg ship was found in a large burial mound at the Slagen farm in Vestfold and excavated in 1904. The ship was built in around 815-820 A.D. The ship was turned into a gravemound for a prominent woman. Under the ship was a thick layer of blue clay, while the mound itself was built up of turf. This explains the excellent state of preservation of the ship and the other objects of wood, leather and textiles. With very few exceptions, these are objects that never survive in graves of the Viking period.
The mound was plundered in ancient times, perhaps explaining why no jewellry or other objects of gold and silver, were found in the grave.The bow and stern of the ship are elaborately decorated with complex wood carvings in the characteristic "gripping beast" style, also known as the Oseberg style.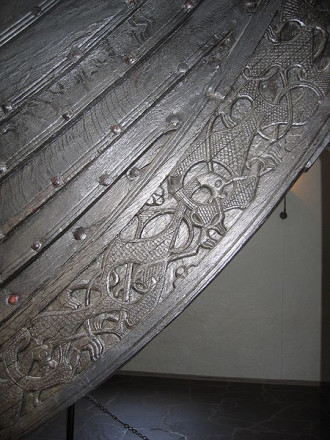 Oseberg textiles
Amongst many other discoveries the Oseberg grave chamber also contained the largest and most varied collection of textiles and textile tools that has ever been found in a single grave. It is without equal in Nordic Prehistory. The collection consists of a number of fragmented tapestries and other pattern woven blankets of wool and linen, tablet woven braids and a large collection of cloth fragments, which come from clothing, sails or tents, rugs and so on, and in addition remains of silk fabrics and silk embroideries.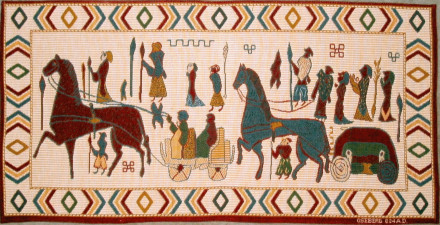 Description
Drakkar, Viking longship.
Clinker built ship of oak.
Designed for rowing and sailing.
Speed more than 10 knots.
The top strake had 15 oar holes.
Length: 22 m wide 5 m.
Although seaworthy, the ship is relatively frail, and it is thought to have been used only for coastal voyages. The Oseberg ship was used as a burial for two high ranking women (see specials).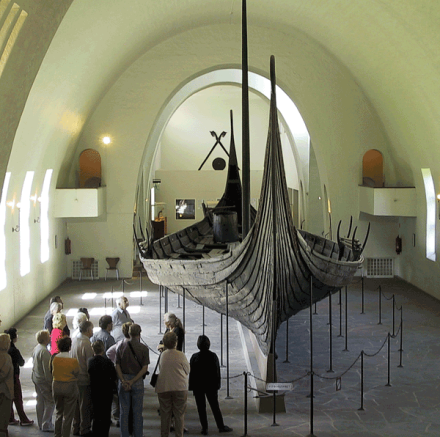 References