History
From its construction till its end
The Kanrin Maru was a screw-driven schooner built in The Netherlands for the Japanese government in 1856. One year later, the ship arrived in Japan where it was taken into service as part of the new naval force of the then ruling Tokugawa shogunate government who were the military leaders of Japan since 1604.
Embassy to USA
The Kanrin Maru was the second Japanes ship to cross the Pacific Ocean. The first embassy traveled on the Date Maru (San Juan Batista) to Mexico and Europe in 1614. 250 years later The Kanrin Maru went to the USA with an embassy to establish for the first time in 212 years diplomatic relationship with an other country than The Netherlands.
Boshin war
The ship was involved in the Boshin war (1868-1869), during which shogunate forces fought the rising Imperial forces, which ultimately ended in the abolishment of the shogunate government and the reinstatement of Emperor Meiji as the countrys ruling power. The ship continued service in the new Imperial Navy, until it shipwrecked at Cape Saraki during a typhoon in 1871.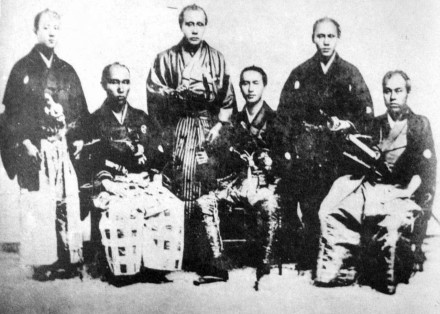 Research
As of now, no wreck has been found. Only the anchor (1984) and some metal scraps (1990) have been found since. A research conducted in 2006 presented no new results. A replica of the ship was built in 1990.
Description
Name: Japan (1856), Kanrin Maru 咸臨丸 (after 1857)
Type: Corvette or small frigate.
Ordered in 1853 in The Netherlands. Delivered in september 1857.
The ship was the first screw driven ship of the Japanse navy.
Shipwright: F. Smit, Kinderdijk, Netherlands
Line: Tokugawa Shogunate Navy / imperial navay after 1869
Dimensions: 49.5m x 7.2m
Propulsion: Screw-driven coal-fired steam engine, sails
Tonnage: 300
Armament: twelve 32-pound cannons
References