History
A brief history
In order to strengthen the shōgunate naval force, the shōgunate government ordered a steam-driven warship from the Netherlands in 1863. When the Kaiyō Maru was launched in 1865, she was the largest Dutch wooden warship ever built. The Kaiyō Maru was one of seven steamships that played a major role in the naval battles of the Boshin War (1868-1869). The remainder of the shōgunate fleet, with the Kaiyō Maru as its flagship, fled up north to Hokkaido in order to launch a counter-attack on the somewhat inferior Imperial Japanese Navy, though even before the attack was made, the Kaiyō Maru wrecked in a typhoon on 15 November 1868. Demoralised by the loss of the Kaiyō Maru, the fleet lost to the Imperial Japanese Navy (Araki, 1985; De Vries, 2000).
Description
Name: Kaiyō Maru
Year: 1865
Shipwright: Cornelis Gips and Sons, Dordrecht, Netherlands
Line: Tokugawa Shogunate Navy
Dimensions: 72.2 m x 13.04 m x 6.4 m
Propulsion: Coal-fired steam engine, sails (three masts)
Tonnage: 2.632 tons
Armament: Eighteen cannons with 16 cm guns, eight 30-pound cannons, later 5 additional cannons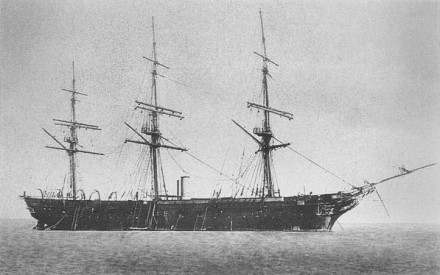 Status
Partial excavations
The shipwreck was discovered in 1968. Due to lack of funding however, only a few items were initially recovered (Araki, 1985). Full-scale excavation began in 1975, though it took until 1985 to end the work on site. On to this day, a remainder of the wreck still lies within the confines of Esashi harbour. Within these . Plans to re-assess the current archaeological quality of the site have not yet come to fruition.
Replica
A replica of the Kaiyō Maru was constructed in 1990 and remains on display at the Esashi docks where it is used as a tourist attraction, showing excavated remains of the actual ship (Kaiyo Maru Youth Center, 2010).
References
S. Araki (1985).
Ruins on the Ocean Floor (Salvaging the Kaiyo Maru).
American Academy of Underwater Sciences, 1985 (17).
J. de Vries (2000).
De Geboorte van de Japanse Marine. In L. Blussé, R. Remmelink & I. Smits (Eds.), Bewogen betrekkingen: 400 jaar Nederland-Japan.
Teleac/N.o.t.