History
Amstelveen was returning to patria after making her fifth journey to the East Indies when she ran aground in what is now Oman. Near Cape Madracah, on the evening of 5 August 1763, Amstelveen and her crew were navigating through foggy weather when they struck the sandy beach. Amstelveen was shortly capsized by the large and powerful waves, which then proceeded to break her apart. Out of the crew of 105 men she was carrying, only 30 made it to shore.
For the 30 sailors that managed to reach the shore, the ordeal was far from over. Stranded in the desert without a ship, they had to walk for over 500 kilometers in an attempt to reach civilization. 44 days later, they reached a small town with a harbor where they were able to secure passage on a ship to Muscat. A number of the crew died in the desert along the way, as they had no provisions, and even lacked sufficient clothing. Among the men who survived the journey was Cornelis Eyks, the third mate naval officer on board Amstelveen. Eyk recorded the survivors journey in a logbook and diary, which were published after his return home, sharing the journey of survival these men had undertaken with the rest of the world.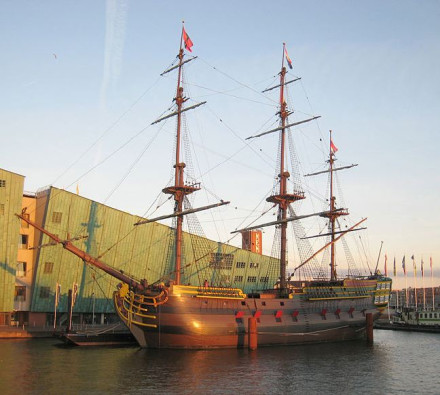 The 30 surviving crew members, after the loss of 75 sailors during the wreck, undertook an arduous trek along the Sharqiyah coast to Muscat. The event, recorded and published in 1766 by the only surviving officer of Amstelveen, Cornelis Eyks, was soon forgotten.
Some of the crew perished in the desert, and in the end, 22 of the original crew of 105 reached Muscat, about six or seven weeks after the wreck of Amstelveen, after walking barefoot with little or no clothes through the dry, empty, and tremendously hot desert in August 1763.
Some years ago, purely by coincidence, an 18th century Dutch logbook was found in an antique bookshop in southern France that turned out to contain Eyks account of the shipwreck. This find renewed interest and attention in Amstelveen, as well as the story of the sailors who survived her wreck and their journey through the desert.
The story of the wreck and subsequent journey on foot is an early example of shared Omani-Dutch heritage.It details the experiences and hardships ofDutch castaways in 18th century Oman, and their encounterswith Omani people in the desert.
Oman and the Netherlands share a surprisingly rich mutual maritime heritage, and the story of Amstelveen has received much attention in this light as heritage experts in both countries came together, especially after a memorandum of Understanding was signed in 2011 to facilitate cooperation regarding the mutual heritage of Amstelveen, to research the story of this Duch ship, especially in light of the 250th anniversary of her sinking in 2013. Two research expeditions with teams made up of both Dutch and Omani researchers were undertaken in 2012 and 2013 to research Amstelveen.
Description
Built in 1746 for Dutch East India Company (VOC) Chamber in Amsterdam.
Length: 150 ft.
Beam: 42 ft.
Tonnage: 500 last, (1150 tons)
Complement: 105
Captain: Nikolaas Pietersz.
Same type as Geldermalsen, her sister ship.
Cargo on her final voyage
3760 pound muskat
11.011 pound giroffelen
5000 pound sappan wood
37.000 pound tin from Banka
737.268 pound sugar (powder)
87.707 pound sugar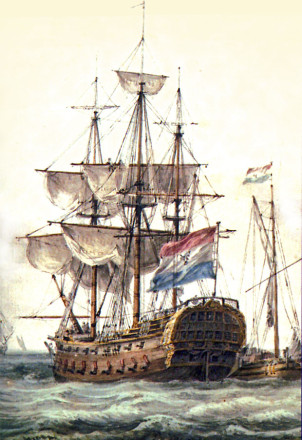 Status
Amstelveen was rumored to have been discovered by divers from the Royal Dutch Shell in the 1990's, but this claim has been unsubstantiated.
The site was surveyed in 2012 by a multi-national team focused on the shared maritime history of Oman and the Netherlands. Based on these findings, a second expedition was undertaken in 2013 in efforts to find and research the wreck site.
Unfortunately, an already short diving expedition was cut even shorter, from 10 days down to 4, due to some unexpected problems, and no definitive wreck site was found. The research from both expeditions was still promising, however, and researchers were hopeful that further research in the future could lead to more results. The project was executed in close cooperation with the Ministry of Heritage and Culture of Oman and Stichting Netherlands Expedition Oman.
<iframe width="853" height="480" src="https://embed.vpro.nl/player/?id=NPS_1230946&profile=npodoc&sharing=1" frameborder="0" scrolling="no" allow="encrypted-media; autoplay; fullscreen"></iframe>
References
Gegevens VOC-schip Amstelveen (1746).
De VOCsite.
Klaas Doornbos (2013).
Shipwreck & survival in Oman 1763.
Pallas Publications.
Cornelis Eyks,Noodlottige gevallen van de Oostindië-vaarder Amstelveen, naar Holland terugkerende vanuit Batavia, in: Tydkorting of magazyn der Heeren; inhoudende een Verzameling van uitgezochte stukken en verhandelingen, aangaande de Natuur- en Zede.