History
The entire cargo of Geldermalsen, valued at fl. 714.963, was lost in the wreck, plus the gold on board valued at fl. 68.135. The ship's hull is recorded with a worth of fl. 100.000. The total loss of the wreck of Geldermalsen was nearly nine hundred thousand guilders.
Geldermalsen was shipwrecked on January 3th 1752, on the reef Geldria's Drought on an island in Indonisia, south of Singapore. The crew managed to get her off the reef, but she subsequently ran aground, at which point the main mast as well as the rudder broke. The ship was severely damaged and taking on water, but the crew managed once again to get her off the reef and keep her afloat. Two lifeboats were launched, and a few hours later Geldermalsen capsized and sunk, along with the cargo, remaining crew, and the captain.
One week later, the 32 surviving crew members reached Batavia in a lifeboat and a barge. Boatswain Christoffel van Dijk was the highest rank of the remaining crew, and was heavily questioned about the accident by the authorities in Batavia.
Discovery
The wreck site of Geldermalsen was discovered in 1985 by commercial salvage diver M. Hatcher. Hatcher was strongly criticized by heritage advocates because removal of the ship's valuable cargo took precedence over a serious archaeological investigation of the site. The wreck was destroyed in the process, and the recovered cargo was sold at Christie's in Amsterdam for more than £10 million.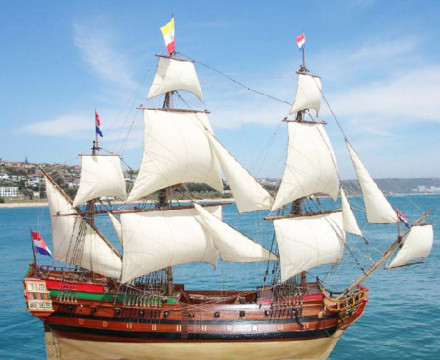 Cargo
The cargo consisted mainly of tea (686,997 pounds), but also more than 150,000 pieces of Chinese porcelain. The ceramics originated from the Jingdezhen region, which was often termed the "Porcelain Capital of China" because of the area's high-quality porcelain productions.
The porcelain was sold at auction in 1986 after recovery from the wreck site. New York Times wrote of the sale: "An extraordinary sum and beyond the wildest expectations of Christie's and Max de Rham. A record for any similar sale in Holland, the 2nd highest from any Christie's auction to that time."
Description
Geldermalsen was a Dutch East Indiaman built by the VOC chamber of Zeeland in 1746, and made her maiden voyage in 1747.
Length: 150 ft
Wide: 42 ft
Cargo deadweight tonnage: 575 last (1150 ton)
Armament: 24 iron cannons, 2 bronze cannons
Complement: Around 300 crew and passengers
The ship was named by a VOC director in Zeeland, Jan Van Borselle, for a region with a family vacation estate. It was a custom at the time to name ships after estates.
References