History

De Romeinse Limes in Nederland met de gevonden Romeinse schepen
Description
Type Zwammerdam schip platbodemvaartuig
Dimensies, 22,75x 2,95 x 0,95
Het wrak was afgedankt en gebruikt in de kadebeschoeiing van
het castellum van Zwammerdam.
In het schip is leisteen (Grauwacken schiefer) uit het Boven Rijngebied
aangetroffen, dat een indicatie over de lading geeft. Het schip is ingezet bij de verstening van de Romeinse forten langs de limes.

Omgevingsvondsten dateren het schip tussen 150 en 200 na Christus.
Scheepsconstructie
De leggers zijn met de natuurlijke kniestukken alternerend geplaatst. Ze zijn deels gespijkerd en deels met houten pennen vastgemaakt op het vlak en de kim. Er is gespijkerd van buiten naar binnen. De natuurlijke kniestukken en overige verticale spant delen (oplangers) vallen in een met inkepingen voorziene balk (binnenboord). Van binnenuit zijn de oplangers met lange spijkers bevestigd, waarbij de punten weer zijn teruggeslagen in de boordgang (geniet).
De boordgang is overnaads bevestigd op de kim. De mastvoet was uitgespaard in een op de leggers aangebracht zaathout.
Het meest opvallende of zelfs meest typerende kenmerk van Romeinse platbodemvaartuigen is de kim constructie. De kim vormt de overgang van bodem naar de zijkant (boord) en bestaat bij alle tot dusver gevonden
platbodems uit een naadloos l-vormig gedeelte van een in de lengte doorgezaagde en vervolgens uitgeholde (halve) boomstam.

Een ander opvallend kenmerk van de platbodems is de spant versteviging in de vorm van spanten of leggers die uit delen van boomstammen bestaan met één zijtak er nog aan. De rechtopstaande zijtakken (kniestukken) dienen ter versteviging en bevestiging van de boorden.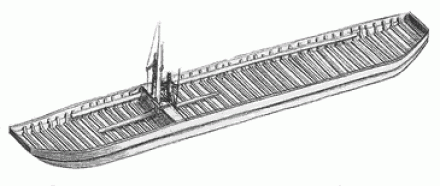 Status
De Zwammerdam is opgegraven en de resten zijn bewaard.
References