History
De Zierikzee maakte deel uit van de z.g. derde schipvaart o.l.v. admiraal Paulus van Caerden die op 20 april 1606 naar Oost-Indië vertrok. De vloot bestond uit de schepen Banda, Walcheren, Zierikzee, Ceylon, Ter Veer, Bantam, China en Patani.
Van Caerden had als gids de beroemde Dirck China uit Enkhuizen bij zich die Aziatische wateren uit eigen ervaring goed kende. Zijn instructies waren deels gericht op handelscontacten leggen met Aziatische heersers en als tweede doel het afbreuk doen aan de Spaans-Portugese vijand voorbij Kaap de Goed Hoop.
Beleg Ilha de Mozambique
Van Caerden eerste doel was het fort São Sebastião op Ilha de Mozambique. Het eilandje was een belangrijke basis op weg van en naar Portugees Azië (Carreira da India).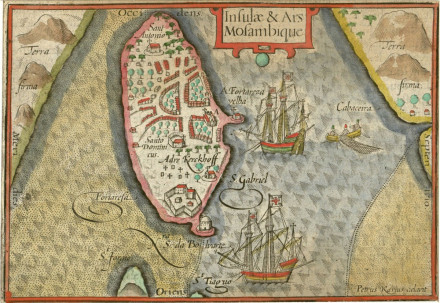 Op 29 maart 1607 begon van Caerden de aanval op San Sebastiaan. Hij had zo'n 1500 manschappen ter beschikking. Maar de verovering van het fort verliep anders dan gedacht. Hij liep vast op de taaie en goed verdedigde Portugese stelling. 25 doden en 80 gewonden aan land en tot overmaat van ramp verloor hij het schip de Zierikzee. Het schip werd door kanonschoten geraakt en liep aan de grond. Het werd later verbrand door de Portugezen. (Torsten p. 33)
Van Caerden stelde een wapenstilstand voor dat door de Portugese gouverneur werd afgeslagen. Daarop verwoeste hij de stad en omgeving. Hij kon verder niets doen en vertrok met zijn vloot op 26 augustus. De overwinning was aan de Portugezen. De Zierikzee bleef achter en werd in brand gestoken.
Description
| | |
| --- | --- |
| Master | Kornelisz., Adriaan |
| Tonnage | 500 ton (250 last) |
References
Bruijn et al. (eds).
DAS 0114.2.
Arnold, T. (2014).
Shipwrecks of the "Carreira da Índia" (1595-1623) – Sources for the Study in Portuguese Maritime History.
Universidada de Lisboa.
De Jonge, J.K.J (1865).
De Opkomst van het Nederlandsch gezag in Oost-Indië, Volume 3 p.64.
Martinus Nijhoff, 's-Gravenhage.