Description
The Zeepaard was a 20-gun Dutch Royal Navy corvette on its voyage back to the Netherlands when it encountered bad visibility off the coast of the Eastern Cape. As a result, the ship hit a reef in Sardinia Bay with such force that the masts and rigging came crashing down. Soon, the passengers and crew tried desperately to reach the shore. Chaos ensued and several rafts were made, but which soon broke apart. Some of the survivors managed to make it ashore on small boats while others swam to shore, clinging to timber from the shipwreck. Sadly, 6 crew members and 2 passengers were lost during the incident.
Once ashore, the survivors managed to scavenge provisions from amongst the washed-up wreckage before they were found and taken in by local farmers.
| | |
| --- | --- |
| Master | A. Reynes |
| People on board | 180 |
Status
In the 1980s a salvage permit was awarded to David Allen, a local diver, although it is unclear how much work he did on the wreck.
Malcolm Turner, a local diver and salver very familiar with the wreck suggested that there are eight iron carronades throughout the lagoon and some more on the reef. It is believed that the iron cannon and anchors are still lying on the reef, and some can be seen at low tide.
Some bronze cannons have been removed from the site. One is reportedly in Prince Alfred's drill hall in a little museum there; another in the Sacramento Restaurant at Schoenmakerskop; and a further cannon is in a private collection. Two of the cannons were removed by helicopter in the 1970s, one of which is in the Bayworld Museum.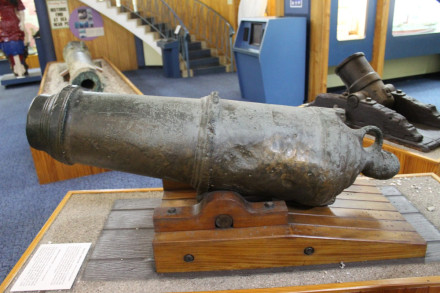 -Bronze cannons from the Zeepaard
The Bayworld Museum also has a collection from the Zeepaard consisting of a musket, lead musket balls, a porcelain bowl, a jar fragment, metal hinges, a key, copper nails and bolts, pulleys, a glass 'Deck lens', hand mirror, earthenware bottle, a portion of an earthenware bowl, bronze gate and one bronze carronade.
The wreckage of the Zeepaard also included a silver tiara which was worn by one of the salvor's daughters at her wedding.

-Silver Tiara from the Zeepaard
References