History
Op kavel A71 in Zuidelijk Flevoland is in 1975 een praam aangetroffen met een lengte van 19,5 meter en een breedte van 3,5 meter. De locatie van het wrak op kavel A71 is ca. 600 meter ten noorden van het Lawsonpad en ca. 750 meter ten zuiden van de Oostvaardersdijk. In hetzelfde jaar is direct een verkenning uitgevoerd. Vervolgens is in 1980 het vaartuig opgegraven. Er is geen jaarringonderzoek gedaan, zodat de kapdatum van het hout onbekend is. Op basis van de datering van de voorwerpen die afkomstig zijn uit de inventaris, is vastgesteld dat het schip na 1760 is vergaan. Het schip is slecht bewaard gebleven. Alleen het vlak en een deel van de bakboordzijde in het voorschip zijn aangetroffen. Het vlak is karveel gebouwd, terwijl de gangen van de zijden elkaar overlappen. De overgang tussen vlak en zijden is abrupt; het schip heeft een hoekige kim. Uit het houtgebruik blijkt dat de scheepsbouwer zuinig met hout is omgegaan. Zo zijn de planken die voor het vlak zijn gebruikt, onregelmatig van vorm: de breedte varieert. Er zijn dus geen rechte planken gebruikt. Op deze manier kan de maximale breedte van een stam benut worden. Ook de kwaliteit van het hout laat te wensen over. Dat heeft geresulteerd in veelvuldige reparaties, die de zeewaardigheid en de gebruiksduur van het schip negatief zullen hebben beinvloed. Van lading is geen spoor aangetroffen. Het schip kan dus geladen zijn geweest met een lichte lading die gemakkelijk wegspoelt, zoals turf of hooi. De inventaris van het schip is incompleet, mogelijk zijn voorwerpen weggespoeld of geborgen. Op grond van drie tinnen lepels waren mogelijk drie opvarende aan boord. Van één van de lepels is de bak kleiner gemaakt, mogelijk voor gebruik door een kind. Wanneer deze interpretatie klopt zou de bemanning uit een schipper, zijn vrouw en een kind hebben bestaan.
Description
Een praam uit de late achttiende eeuw, Almere
Status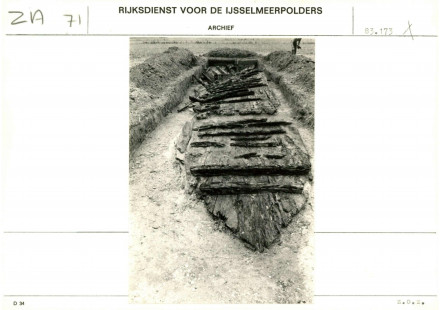 References
Holk, A.F.L. van (1996).
Archeologie van de binnenvaart: Wonen en werken aan boord van binnenschepen (1600–1900).
Lelystad: Nederlands Instituut voor Scheeps- en onderwater Archeologie/ROB (NISA).
Batavialand te Lelystad, Maritiem Archeologisch Depot.
Opgravingsdocumentatie scheepswrak ZA71.
MacLaughlin-Neyland, K. & B. Neyland (1993).
Two prams wrecked on the Zuider Zee in the late eighteenth century: Excavation reports 15 and 16.
Flevobericht, nr. 383.