History
Historical description
Witte Leeuw, or "White Lion", sailed as a merchant vessel between Patria and the Indies for the Dutch East India Company (VOC). She was part of the fleet of Atjeh (Atjehse vloot), other ships of this fleet being Zwarte Leeuw, Rode Leeuw, and Groene Leeuw. The destination of this fleet was Atjeh, which gave the fleet its name. Witte Leeuw was lost on June 13, 1613, on her way back to Holland from the east. Her cargo contained valuable spices and porcelain. She was drawn into a fight with Portuguese carracks near St. Helena, and burned. Part of the remaining crew sailed back to Holland on board Vlissingen and Bantam. Witte Leeuw is presently the only known Dutch shipwreck in St. Helena.
In 1998 the post office of St. Helena designed stamp to honor the rich maritime heritage of the island. Stamps were designed depicting different types of ships. One of these was a painting of the Dutch Ship Witte Leeuw.
Archaeological description
The wreck of Witte Leeuw was discovered in 1977 by the Belgian diver R. Stenuit. It lay at a depth of 36 meters in the Bay of Jamestown in St. Helena. Stenuit later received a contract with the government of St. Helena regarding the salvage of the wreck.
The wreck was physically protected throughout the years since her wreck as she was buried under a thick layer of mud. Because of this, the timber of the ship was in relatively good condition when the wreck was excavated. The wreck also lies at a sufficient depth to prevent a high level of human impact, further insuring her preservation.
Archaeological finds
When the archaeological finds were examined, they revealed a standard cargo of a VOC ship. A large amount of spices and porcelain were found, providing a clear example of the purpose and function of the ship in the trade between the Dutch East Indies and the Netherlands.
Some of the finds recovered were sold at auction in London, and some were acquired by the Rijksmuseum in Amsterdam.
The ship
Pictures of the yacht Duyfken, a ship from the same period as Witte Leeuw. A full scale replica of this ship was built at Freemantle in Australia.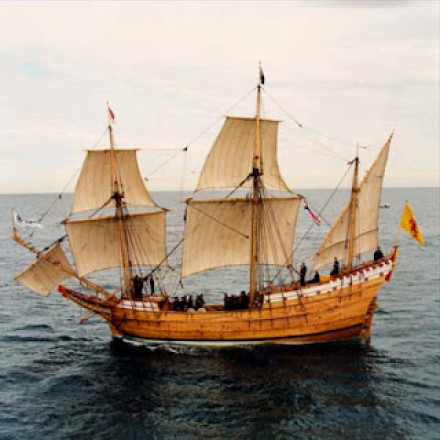 Description
Name: Witte Leeuw
Type: Yacht
Built: 1601
Yard: Amsterdam
Chamber: Amsterdam
Tonnage: 540, 270 last
Captain: Roelof Simonsz. de Bloem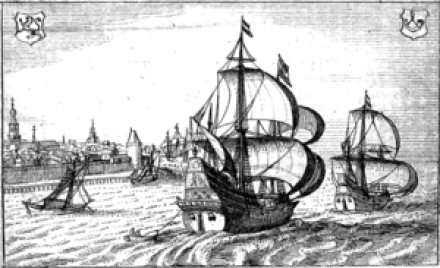 References
VOC site.
DAS Number: 5100.3.
Robert Stenuit (1978) The sunken treasure of St. Helena. National Geographic (10)..
Robert Stenuit (1977) De 'Witte Leeuw'. De schipbreuk van een schip van de V.O.C.  in 1613 en het onderwateronderzoek naar het wrak in 1976. Bulletin van het Rijksmuseum, Amsterdam..
DAS: 5100.3.
RCE Livelink: 1.853.3. algemeen.