History
The Walcheren was a ship of the line sailing for the Dutch Admirality. Admiral Cornelis Evertsen de Jongste was in command of the Walcheren. The Walcheren had fought in the English-Dutch wars and participated in some of the bigger battles at sea. In 1688 The Walcheren participated in the glorious revolution. William's successful invasion of England with a Dutch fleet and army led to his ascension of the English throne as king William III.
When the Walcheren returned in 1689 at the port of Vlissingen, she was welcomed by a large crowd of approximately 6000 people.
The Walcheren struck a pier while sailing to close to the coast trying to enter the port and sank in front of the crowd. Between 20-40 people died. After this unfortunate event the wreck of the Walcheren blocked the entrance to the harbor resulting in the destruction of the ship by blowing it up in order to clear the entrance to the port of Vlissingen for other ships.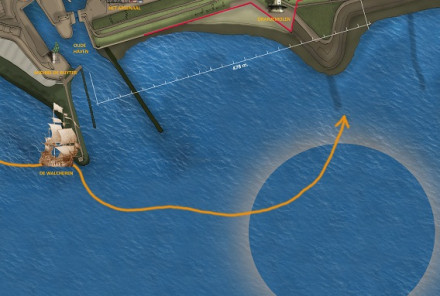 Archaeological description
Several attempts have been made to find the remains of the Walcheren. Recently in July and December 2012 by the diving group of the Dutch Navy and local specialists. Research was done by an ROV (Remotely operated underwater vehicle), sonar and divers attempting to scan the seabed for remains of the Walcheren. The search was quite a challenge due to strong currents and bad visibility underwater. Part of a wooden beam and some bricks, presumably belonging to an oven, were found.
Although The Walcheren sank on the spot and the recent finds seem to be of a wreck this is no proof that it is The Walcheren.
In December 2012 again part of a brick structure was found. It could be a part of a galley or ships kitchen.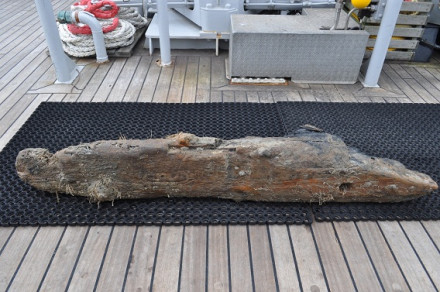 Description
Type: Ship of the line
Owner: flagship of the admiralty of Zeeland.
Built: yard in Vlissingen, 1665
Length: 155 foot
Armament : 70
Complement : 380
References
Bender, J. (2014).
Dutch warships in the age of sail (1600-1714).
Seaforth Publishing.
De Jonge, J.C. (1859).
Geschiedenis van het Nederlandsche Zeewezen. III .p 190.