History
Historical description
The ship Vis was a fluyt a ship used as a merchant vessel for the Dutch East India Company (VOC). The fluyt was the most successful cargo carrier of the 17th and 18th century. She was of Dutch design: cheap to build,cheap to maintain and cheap to sail with relatively large hull.
The Cargo
The ship carried with her specie, granite blocks and many large cast-iron cannons.
The loss
The ship sailed onto the rocks near Greenpoint by accident. In an attempt to salvage crew and cargo a cable-way was constructed between the ship and the shore. People and cargo were then put into a cauldron, normally used to cook, to ferry everyone ashore. With 2 people at a time they would be transported ashore with the cauldron. The story has it that one person got to gready and tried to save himself with with 2 chests and pockets filled with coins, that the handle broke off the cauldron and he drowned. Besides this event, the crew and most of the money chests were salvaged in 1740.
Archaeological description
The wreck was found near present day Greenpoint in Cape Town. At the site where the ship was lost, they have put up a commemorative plaque with information about the wreck.
The ship carried with her specie, granite blocks and many large cast-iron cannons. However, no archaeological report has been written on the research of the wreck. It is said that large granite blocks and some cannons are still present on site and that only coins, bronze swivel guns and small cannons were salvaged from the site in modern times by divers approximately 50 years ago.
Some of the items were auctioned by StephanWelz & Co, auctioneers of decorative and fine arts in 2008 & 2009. An example is Lotnr. 887, a small stoneware jar. Anothe rexample is that of a bronze cannon, Lotnr. 448.
Painting of the "Visch" by Jurgen Leewenberg, 1740
The painting depicts the loss of the Vis, the attempt to salvage crew and cargo and provides an insight of the attention such an event would have had.
In the picture we see a salvage attempt from the ship, by putting a rescue line between the ship and the shore. Dressed in black standing next to the tents is the Governor, trying to protect any goods salvaged. People are watching the event from the shore. Slaves wearing their traditional headwear, the red kerchief. This was also known as 'woelsel' or'kopdoek'.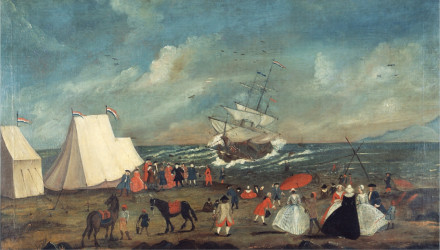 Description
General information
Name: De Vis(De Visch)
Type: Fluyt ship
Master: Jan Sikkes
Built: 1732
Yard: Enkhuizen
Chamber: Amsterdam
Length: 130 feet
Tonnage: 650, 325 last
Complement: 150-175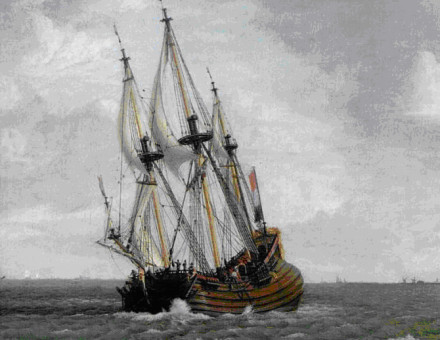 Status
Protected in terms of the National Heritage Resources Act, No.25 of 1999. This act regards historic shipwrecks as well. The site may not be disturbed without permission of the South African Resources Agency (SAHRA) and artifacts removed from the wreck may not be traded without SAHRA's permission.
References
NA-1.11.01.01-551, [s.a]. Lijst van alle zoodanige Schepen in soorten als bij de Generale Oostindische Compagnie zijn gemaekt oft gekocht als gehuurt alsmede waer oft de zelfde zijn agter gebleven ofte verongelukt als genoomen en verbrand, vermist of afgelegt. - [s.a]. - 228 folio's, [nl] - Nationaal Archief, 1.11.01.01 inv.nr. 551 Aanwinsten eerste afd. 1891, 19E
RGP-GS166, 1979. Dutch-Asiatic Shipping in the 17th and 18th centuries, Volume II, Outward-bound voyages from the Netherlands to Asia and the Cape (1595-1794). - Den Haag: Martinus Nijhoff, 1979. - 765 p., [en] - ISBN 90-247-2270-5
RGP-GS167, 1979. Dutch-Asiatic Shipping in the 17th and 18th centuries, Volume III, Homeward-bound voyages from Asia and the Cape to the Netherlands (1597-1795). - Den Haag: Martinus Nijhoff, 1979. - 626 p., [en] - ISBN 90-247-228
RCE livelink: 1.853.3.48 (Zuid Afrika)
DAS: 3174.4 (last voyage)