History
The site was discovered by sport divers and reported to the National Board of Antiquities of Finland. Three-legged bronze pots were discovered on the site (cf. photo) and lifted, which allowed a rough typological preliminary date.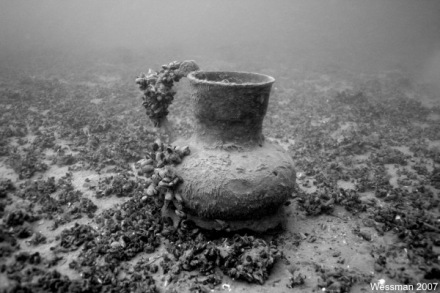 In 2003 the site was investigated by divers of the National Board of Antiquities, and in 2006 it was mapped with a Remote Operated Vehicle (ROV).
Description
Eroded remains of the wooden wreck were also observed, while the entire bottom-section is covered by ballast-stones, estimated to be well preserved. No details could be inferred from the covered structural remains yet.
References
Wessman, S. (2007).
Ship Fragments on the Seafloor – What Do We Know about Medieval Seafaring in Finland?.
In: V. Immonen, M. Lempiäinen, U. Rosendahl (eds.), Hortus Novus. Fresh Approaches to Medieval Archaeology in Finland, pp. 140-150.
Turku.