History
The remains of two medieval merchant vessels, known as cogs, were discovered over the summer in Varberg in Sweden during an archaeological excavation.
Analyses show that the ships were built outside of Scandinavia in the mid-14th century.
The cogs were discovered by a team from Arkeologerna, which is part of the National Historical Museums of Sweden, during the construction of a railway tunnel in the town of Varberg.
Elisabet Schager, archaeologist and project leader of the excavation, with The Archaeologists, part of the National Historical Museums of Sweden, says:
"These wrecks are a very special discovery, both in Sweden and abroad, so it has been fantastic to find them. Before these two wrecks were discovered, only 7 other cogs were known in Sweden, and only around 30 are known in the whole of Europe."
Dimensions
Consists of the nearly complete port side that is about 20.5 meters long and 5 meters wide.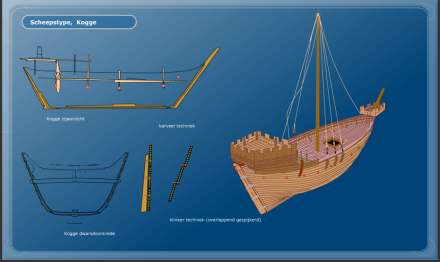 RCE WB
Construction details
Several construction details were noted during the excavation of the wrecks, all of which are characteristics identifiable with traditional cog construction.
For example, the bottom strakes of the vessels were built in the carvel style, while the sides are built in the more traditional clinker style. Furthermore, the caulking between the strakes was made with moss and secured with lathes.
Also, the decks were supported with bulky crossbeams which stuck out the sides of the hull.
Description
Dating
The first dendrochronological (tree-ring dating) samples show that Varbergskoggen 1 was constructed with lumber felled after 1346 AD in what is now the Netherlands, Belgium, and north-eastern France.
Suggesting a Dutch or low country origin of the Varbergskoggen 1.
About the project
Since 2019 the Swedish Transport Administration has been overseeing the construction of a railway tunnel below Varberg. Arkeologerna, SHM (The Archaeologists, National Historical Museums of Sweden) have led the archaeological investigation and excavation of the area affected by the construction, in cooperation with archaeologists from Halland Museum of Cultural History as a partner. It was during this project, in the spring of 2022, that the wrecks of the two cogs were discovered.
Museum Het Valkhof
Cog
Cogs were medieval single-masted transport vessels that are often associated with the Hanseatic League but were also used across the whole of Northern Europe. Often seen as the successor the Viking Age Knarr, cogs were designed to maximize cargo space.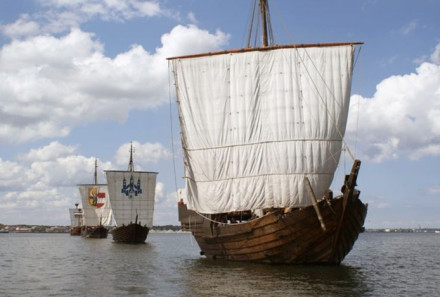 Stentor
Status
Artifacts
Archaeologists have also discovered a variety of fascinating artifacts in the wrecks, such as leather shoes and wood and ceramic housewares. A rare cache of ship equipment and reserve parts were discovered aboard Varbergskoggen 1.
References