History
Uwe was a barge, which was launched as Fürstenberg in 1914 at the Gebrüder Wiemann shipyard in Brandenburg for the Berliner Lloyd AG. In 1917 the vessel was taken over by the Schlesische Dampfer-Compagnie (SDC) based in Hamburg, in 1971 it was bought by the Westfälische Transport-Actien-Gesellschaft (WTAG) in Dortmund, and in 1973 the vessel once again changed ownership, when it was bought by Günther Kroll, who renamed the vessel Uwe.
On 19th December 1975, under influence of thick fog, Uwe was overtaken by the freighter Wiedau, when the Polish freighter Mieczyslaw Kalinowski appeared from the fog, which lead to a collision with Wiedau's bow. Due to the impact, Wiedau turned to starboard and collided with Uwe, cutting the hull into two halves. Most of the crew saved their lifes by jumping overboard and swimming to the beach, while two lost their lifes. Here is an artist's impression of the broken off stern section (top) and the original vessel before the accident (below).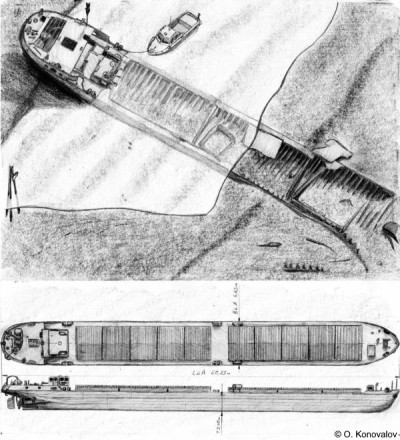 Description
| | |
| --- | --- |
| Length | 197.7 feet (60.3 m) |
| Beam | 21 feet (6.4 m) |
Status
Today, the wrecks of Uwe and Polstjernan are popular spots for sightseeing and scenic photographs. They are fully visible at low tide. They have become landmarks appreciated by locals and visitors alike. Rumours that the wrecks shall be removed were refuted by the Hamburg Port Authority (HPA) in 2018.
References