History
The wreck was discovered in 1994 during excavation works at a dyke separating the Uelvesbüller Koog and Adolfskoog (polders). The wreck was not damaged by the excavator and it protruded 4 metres into the excavation pit. Owing to a low ground-water level during the sommer months, the stratigraphy of the dyke's building phases could be documented in situ.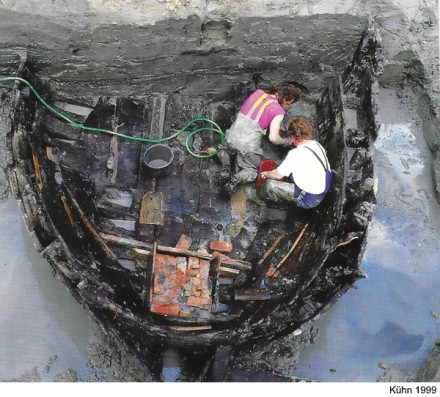 The flood-control necessitated a swift recovery, however, so the wreck was excavated and removed as a block after only 9 weeks. For the removal, tunnels had to be dug beneath the wreck, into which steel girders were laid, which were connected to a corset. This was lifted from the excavation pit by a crane.
Description
According to the dendrochronological analysis, the vessel was built around/after 1600. The way of construction shows the influence of the 'Dutch flush' method, as the vessel was built as shell-first carvel construction with massive planks, and frames that were later inserted and which components were not interconnected.
| | |
| --- | --- |
| People on board | 2 |
| Length | 39.4 feet (12 m) |
| Beam | 12.1 feet (3.7 m) |
| Tonnage | 20 ton (10 last) |
Status
The Uelvesbüll wreck has been conserved with sugar and is on display in the Schiffahrtsmuseum Nordfriesland, the small regional maritime museum of North Frisia in Husum.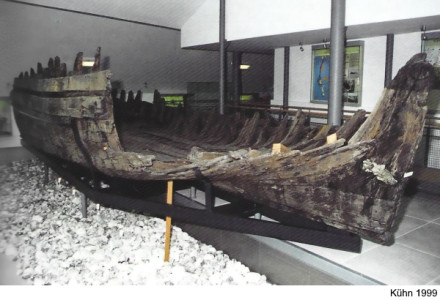 References
Kühn, H.-J. (1999).
Gestrandet bei Uelvesbüll - Wrackarchäologie in Nordfriesland.
Husum.