History
Het SS Trito, vertrok met het Engelse SS British Scout van Dartmouth naar Southampton. De schepen voeren zoveel mogelijk 's nachts en brachten de dag in een haven door. Op 20 September 1940, om 22.30 uur, werd de Trito door Duitse vliegtuigen aangevallen en met bommen tot zinken gebracht. (Bezemer)
Het contemporaine ANP bericht spreekt van een zeemijn die kort voor de ramp door een Duits vliegtuig zou zijn uitgezet.
Na een enorme explosie brak de Trito in tweeën en de ketel ontplofte. Het schip zonk binnen enkele minuten in het Engelse Kanaal ter hoogte van Portland. De meeste opvarenden lagen in hun kooi toen de explosie klonk. 17 Nederlandse opvarenden en 4 Britse kanonniers worden na de ramp vermist. Alleen hofmeester Vermaas en matroos Poot overleefden de ramp.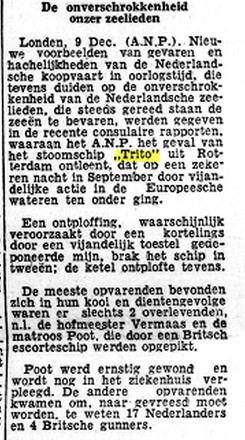 Delpher
Description
Gebouwd: N.V. Boele's Scheepswerven & Machinefabriek, Bolnes, NL 1921
Eigenaar: N.V. Maatschappij "Zeevaart", Rotterdam
Dimensies: 231.9 x 36.2 x 13.3 Feet
Tonnage: 1057.00 Gross
Complement: 19 zeelieden, 4 Britse soldaten
Two of the British gunners were O'CONNELL, William, Act/Able Seaman, D/JX 198432, (HMS President III). O'NEILL, James, Act/Able Seaman, D/JX 198441, (HMS President III).
Status
De namen der vermisten:
W. Boll gezagvoerder, A. Damsteeg matroos, W. L.C. Luyendijk 1e stuurman,
A. Heus matroos, H. J. C. v. d. Eeden 2e stuurman, A.v. d. Hoek matroos,
P.J. Stappers 1e machinist, J. Snijders matroos, H.Volk ' 2e machinist , J. de Hoop donkeyman, C. Huyssen 3e machinis,t H. J. de Volder stoker, H.J. Raams ass. machinist ,G.F. Dannau stoker, J. M. van Deutekom kok, M. M. van Velsen stoker, C. v.d. Pol matroos

De namen van de 4 Engelse kanonniers zijn niet bekend.
References
Bezemer, K.W. L.
Geschiedenis van de Nederlandse Koopvaardij in de Tweede Wereldoorlog.
Stichting Martiem-Historische Databank.
Trito ID 6685.
Haersolte J.W.J. (red.) (1947).
Scheepsrampen in oorlogstijd ,nr. 37.