History
During the year 1876 in the Macmillan & Son Shipyard located in Scotland, a 62.5 meter ship was built and named The North Carolina. This iron-hulled English barque was owned and operated by Patton, Vickers, and Co. of Liverpool as a cargo ship. The North Carolina was on route from Baltimore to Liverpool in the winter of 1879 carrying a cargo of cotton, bark, and fuel when the rudder was damaged. The ship took a detour to Bermuda for maintenance on November 21, where it was repaired. On December 30, the North Carolina left St. George's Harbour back to Liverpool. However, on its departure from Bermuda on January 1, 1880, the North Carolina ran aground on a western reef. All crew were rescued, and Captain Alexander Buchan tried to refloat the ship on January 27. Unfortunately, this failed when an anchor broke free causing a large tear through the hull, sinking the ship in minutes.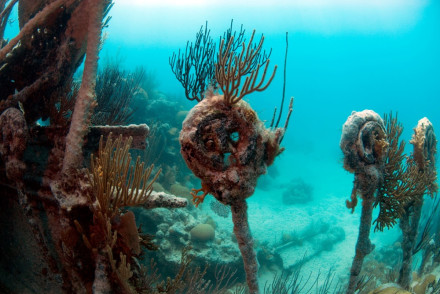 Description
| | |
| --- | --- |
| Length | 62.5 feet (19 m) |
| Tonnage | 533 ton |
Status
The North Carolina now rests at the depth of 7 to 14 meters of water. The ship sits upright, with the bow and stern fairly intact while the central area has mostly collapsed. Due to its location, during choppy seas, silt is easily stirred up, making visibility poor. Hogfins and snapper are often noted to be at this site while diving.
References