History
Built in 1918 by Frye Flinn Co. in Harrington, Maine, the Constellation was a 58-meter-long four-masted, wooden-hulled schooner. Originally dubbed the Sally Persis Noyes, she worked as a cargo vessel until 1932 when the ship was sold to Robert L. Royall. The renamed 'Constellation' was refurbished with the purpose of hosting a nautical school. Unfortunately, due to low demand of cruise ships at the time, the Constellation turned to hauling cargo such as coal and lumber along the United States eastern seaboard. As World War II began, the Constellation was put into service for the merchant navy as a cargo vessel owned by Intercontinental Steamship Lines of New York. On July 19, 1943, the Constellation sailed from New York with a course to Venezuela. She carried 2,000 tons of cargo, including cement bags, antique furniture, and 700 cases of Johnny Walker whiskey. Three days into the journey, the ship began taking on water due to a broken steam pumping gear and diverted to Bermuda for repairs. Captain Neavers charted a course straight for the Gibbs Hill Lighthouse beacon. As the captain was unfamiliar with Bermuda waters, when the Constellation reached the Western Blue Cut reef, located northwest of Bermuda, she hit the reef and sank on July 31, 1943. All crew survived and were rescued. A salvage company with the assistance of the U.S. Navy retrieved some of the ship's cargo, primarily focused on the cases of Johnny Walker whiskey.
Description
| | |
| --- | --- |
| Length | 190.3 feet (58 m) |
| Tonnage | 1034 ton |
Status
The Constellation and its cargo now lie in 3 to 9 meters of water within 15 meters of the Montana wreck. In the early 1990s, the Constellation wreck site was recorded by archaeologists from the Bermuda Maritime Museum with the help of the Maritime Archaeology and Historical Society. This wreck became more well-known when writer Peter Benchley, author of "Jaws", took inspiration from the Constellation to write the novel "The Deep". This was later adapted into a film in 1977. Today, divers can visit the wreck, seeing thousands of cement bags, glass bottles, tennis racquets, and a large variety of marine life.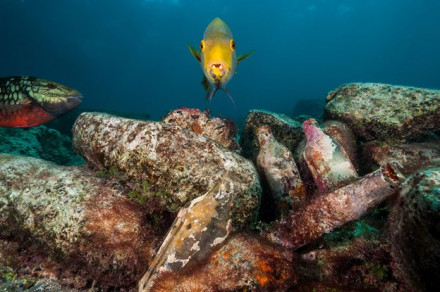 References