History
During the Teerhof rescue excavation at Bremen's medieval shipyard two further wrecks were discovered in 2007, i.e. several months after the 'Beluga ship' (Teerhof wreck 2) was discovered.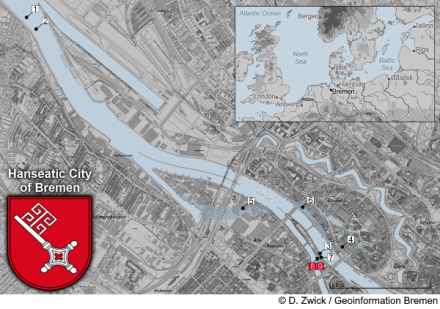 The wrecks were well preserved up to lengths of 17 and 11 metres and represent river-craft. Only the bow and stern sections as well as parts of the side planking were not preserved.
Description
Teerhof 3 features a mast-step (cf. photo below). It can be doubted that the vessel carried a sail, so it seems more likely that it carried a towing-mast.
The wrecks feature so-called L-shaped chine girders, but with a greater angle in cross-section, as there is no sharp transition at the turn of the bilge.
Teerhof 3 (Lastkahn 1) dates to 1681 and Teerhof 4 (Lastkahn 2) to 1668. Both wrecks seem to have ended here at the same time in the beginning of the 18th century. They are situated in a former canal once seperating the Teerhof (Bremen's historic shipyard) and a gunpowder tower known as 'Braut' (literally: bride), which was filled at this time. Thus, the wrecks might have been purposely abandoned here to serve as foundation.
Status
The wrecks were salvaged and PEG-conserved at the DSM (German Maritime Museum) and studied within the framework of a Master's thesis.
References
Bischop, D. (2011).
Die zwei Weserlastkähne der Beluga-Baugrube auf dem Bremer Teerhof.
Skyllis 10, 56-64.
Mücke, R. (2011).
Weserlastkähne im archäologischen Befund.
Deutsches Schiffahrtsarchiv 34, 35-86.