History
Holger Spreer, ranger of the National Park Wadden Sea, discovered in March 2020 an 18m long section of a shipwreck. The section has been entirely unearthed by erosion.
Due to tidal currents and the exposed location there was a concern that the wreck might not survive for long in situ. Moreover, the remoteness of the site and the Covid-19 pandemic prevented the competent authority ALSH (State Archaeology Department of Schleswig-Holstein) from sending out a field team at once. Holger Spreer and his trainee Paul Rusch volunteered to make a photo-documentation of the wreck and to take wood samples on behalf of the ALSH. Although the ALSH has a long tradition of volunteer involvement through its confidants scheme ("Vertrauensleuterichtlinie"), this action set a precedent in that a fully-fledged pre-investigation was carried out by non-archaeologists, who followed the instructions perfectly and delivered extremely useful data.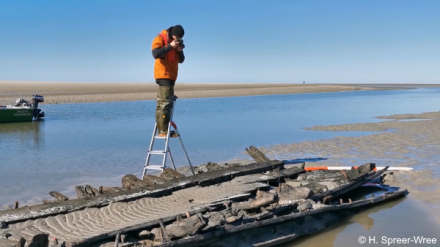 In late April maritime archaeologist Dr. Daniel Zwick had the opportunity to investigate the wreck on behalf of the ALSH. The preliminary investigation revealed several constructional characteristics, through which the origin of the ship could be inferred as Dutch.
Description
The study of the construction revealed several characteristics diagnostic for the "Dutch flush" (cf. graph below) and "Double Dutch" method, a shell-first variant of the carvel method with two layers of oak planking, as practised in the Republic of the Seven United Netherlands in the 17th century.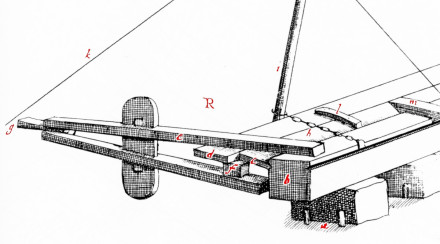 Interestingly, the dendrochronological analysis of the oak planks by Dr. Aoife Daly (University of Copenhagen) has revealed that they were cut around/after 1733-36 in Lower Saxony. The date is very interesting, as it reveals an anachronism. In the early 18th century the skeleton-first method was adopted at major Dutch shipyards, similar to England and France, but this wreck proves that the old style of shell-first shipbuilding ideosynchratic for the northern Netherlands was still in existence even for large ship-constructions.
The dendrochronological analysis of the floor-timbers did not yield any results, as they contained too few annual rings, which - again - reflects a typical feature of "Dutch flush" shipbuilding, in which the framing-system is relatively slender.
At the wrecksite a clay pipe and a sherd of a blue-glazed fayence (Delft ware) were discovered. The latter was a Dutch export hit and emulated Chinese porcelain back at a time when "Made in China" was deemed a characteristic for high quality commodities.
The identity of the ship has not been ascertained yet, but research is still ongoing.
Status
The tidal creek "Blaubachpriel" has changed its course and has relocated further to the east. As a consequence, the wrecksite has been covered by sediments again, thus an in situ preservation is possible for the foreseeable future. The photo below shows the wreck in late February 2021.
References