History
The Stirling Castle was part of a squadron returning from the Mediterranean which had anchored in the Downs, just off the coast of Kent, during the Great Storm of 1703. Along with the Northumberland, The Restoration and many other vessels, the Stirling Castle was driven into the notorious Goodwin Sands and sunk, overall 1190 lives were lost.
Discovery
The site was first located in 1979 when local divers from Thanet were investigating a fisherman's net fastening. At that time the ship had been dramatically exposed by shifts in the Goodwin Sands, possibly for the first time since she was lost.
The dynamic nature of the Goodwin Sands left the amateur divers to recover many objects which were at risk of being completely lost. The exposed hull was remarkably well-preserved and intact, with enormous potential to provide information on the late 17th/early 18th century English navy, consequently the site was designated in 1980.
At this time the Stirling Castle was also purchased by the Isle of Thanet Archaeological Unit (now the Trust for Thanet Archaeology) but once more disappeared into the sand. In the following years the site has been periodically monitored. During the 1980s and 1990s film footage as still photographs of the site were collected and a variety of geophysical techniques have been employed to study the movements of the ship. In 1998 the vessel once more began to emerge from the sand and a team formed, under the name Operation Man O' War, carried out survey work in 1999. This survey indicated that the ship had undergone substantial movement and internal collapse.
Source: Historic England.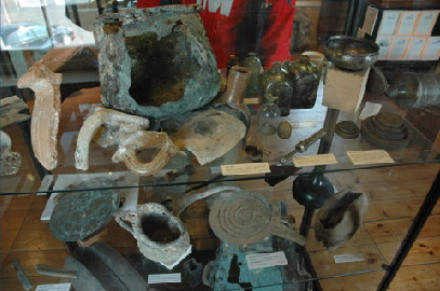 Description
The Stirling Castle was a third rate 70-gun ship-of-the-lin buil in 1678 at Deptford as part of Samuel Pepys' regeneration of the English navy.
Like the Northumberland and the Restoration she was rebuild at Chatham in 1699 and she was refitted in 1701.
Status