Description
The dendrological analysis of the ship's timbers was carried out by Dr. Karl-Uwe Heußner (German Archaeological Institute, Berlin), indicating a cutting date in the 1870's and a North Sea provenance, particularly in the Oldenburg area. The limestone cargo originated from southern Denmark and could be confidently classified as "Faxe chalk". Despite the increased availability of written documentation of ships in the late 19th century and a thorough archival research, the identity of the wreck could not be ascertained yet. This showcases that even fairly recent wrecks are often "invisible" in the historical record.
Of the wreck itself only parts of the bottom section has survived, i.e. slabs of planking, frames in pairs, as well as ceiling planks.
Status
In 2007, the professional diver Rolf Lorenz reported the wreck to the authorities. It is located at a depth of 2-3 metres in the vicinity of a stone pier of the village of Stein, ca. 20 kilometres east of the city of Kiel.
The wreck was subject to an investigation in 2013 by AMLA (the student working-group for maritime and limnic archaeology at the University of Kiel) under the lead of Dr. Florian Huber, in which the wreck was documented in 67 dives. A detailed report was submitted in the following year by Jana Ulrich as Master's thesis.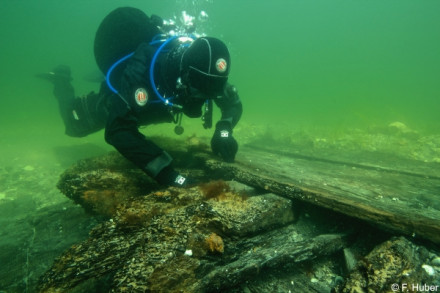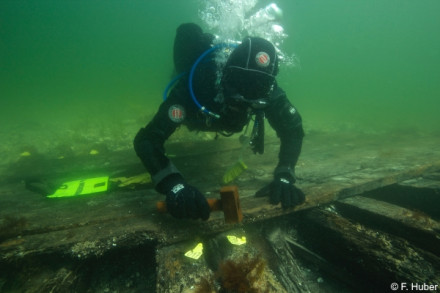 The wreck is badly preserved and its deterioration is accelerated by the marine borer teredo navalis.
References
Huber, F. (2014).
Unterwasserarchäologische, nicht-invasive Prospektions- und Dokumentationsverfahren in schwierigen maritimen und limnischen Gewässern (=Dissertation).
Christian-Albrechts-Universität zu Kiel.
Ulrich, J. (2014).
Ein neuzeitliches Wrack vor Stein: Der Weg als Ziel einer unterwasserarchäologischen Untersuchung und der Versuch einer historischen Rekonstruktion (=Master's thesis).
Christian-Albrechts-Universität zu Kiel.