History
Description
Built for the Northdeutscher Lloyd (NDL) Bremen. In 1934 the SS Madrid was chartered (in 1937 bought) by the Hamburg Sud Amerikanische Dampfschiffart Gesellschaft and renamed SS Madrid. When the Second World War broke out she was near the Canary Islands. Captain Brand decided to go to neutral Las Palmas to avoid capture by the allied forces.
A year later the SS Madrid was commissioned to Europa at first to Saint Nazaire the German submarine base in France (28-12-1940). She was used as a targeting/practice ship for the German U-boat flottilla. After repair changes at Wilton Feijenoord in Rotterdam Holland she (February 1941) was commissioned to Hamburg.
The convoy of 8 ships was attacked by the RAF 25 km SW of Den Helder. The SS Madrid was hit by four bombs and drifted towards land. She ran aground on a sandbank called the Keizersbult. Several ships tried to get near the burning ship but all failed. 12 people died. In 1942 the ship sunk.
Description
Steamer, passenger ship
Built in 1922 Vulcan Ag. in Hamburg and Stettin Germany.
Initially she was called Siera Nevada changed in SS Madrid in 1937.
Length: 134 m
Width:17 m(ca. 1000).
Height: 11.5
8000 tons
Propulsion: 2 triple expansion engines (4400 PK 13 knts)
Complement: 83
Passengers ca. 1000
Attacked and bombed by the RAF 9-12-1941.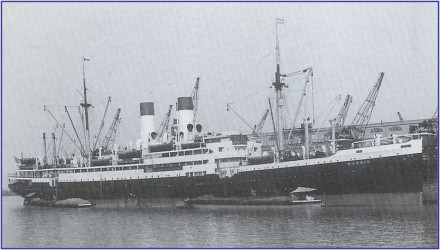 Status
Partly preserved.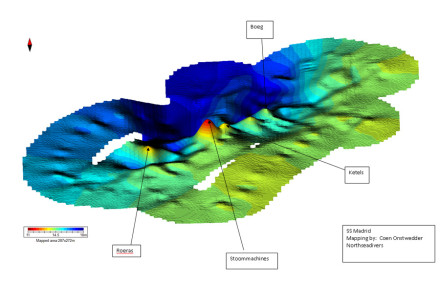 References