History
The ship was largely used for the war effort, between 1939 and 1942, mainly transporting goods from and to England, especially in convoys OG and HO on the Gibraltar-Liverpool-Gibraltar Atlantic route.
Last voyage
SS Dago left Liverpool on 23th February and sailed in convoy to Gibraltar. She left Gibraltar on 9th March for Portugal Lisboa. 15th march she left Lisboa for Leixões. This time SS Dago was alone. At 17:00 a plane was spotted. The gunners fired at the plane. They missed and that turned out to be very lucky. The plane turned out to be an allied Short Sunderland Flying Boat.
At 18:30 a plane came from the east. However this time it was a German Focke-Wulf 200 Condor. The German plane attacked immediately. shot and dropped 3 bombs. The SS Dago was hit and sunk. The crew got away in the lifeboats. Only four men were injured.
Research and identification
Near Penich are identified two wrecks both steamers. The most likely candidate for the SS Dago is wreck 1.
Wreck 1 - investigated by amateur divers - had a triple expansion engine (three cylinders), wreck 2 had only two cylinders.
(Source : From wreck to ship )
Description
British steam cargo ship.
Built 1902 by Caledon Shipbuilding & Co., Dundee Scotland.
Owned by Ellerman Wilson Line.
Length: 296 ft.
Beam: 37.2
Draft: 17:
Tonnage: 1757
Propulsion: a steam vertical reciprocating compound triple expansion engine
Speed: 11.5 knts
Complement: 32 (6 naval gunners)
Armament: anti aircraft defense
Sunk by a Focke-wulf 200 condor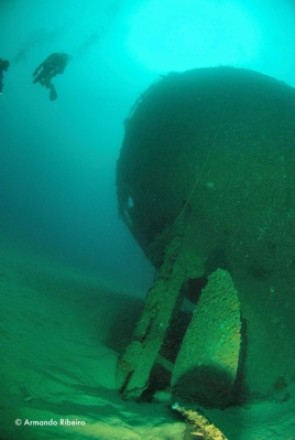 Status
Wreck 1 is lying on a depth of ca. 50 m. 500 m from a second wreck. The wreck is broken in two large segments, separated in the second hold, where the second bomb exploded. The stern section lies straight in the bottom with the keel buried in the sand.
References