History
On May 6, 1863, Solomon Linnell II and Alfred Rogers spotted the ribs of a ship's hull poking through tidal flats at Nauset Beach on Cape Cod.
They named the wreck Sparrow Hawk. The ship was a small pinnace that sailed for the English Colonies in June 1626. A rough, A six week voyage ended in a storm on Cape Cod, Massachusetts. The heavily loaded Sparrow-Hawk was driven onto the isolated Nauset Beach The group of 25 travelers was rescued by English-speaking indigenous members of the Nauset tribe, who sent word to the Pilgrim settlement in the Plymouth Colony, about 50 miles away, about the shipwreck.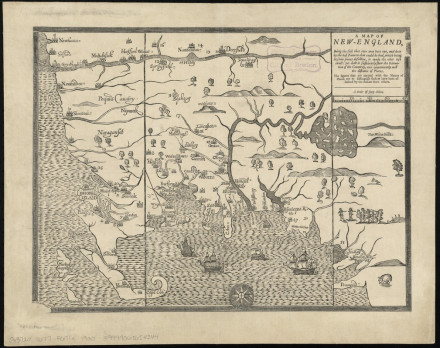 First map printed in America by Boston printer John Foster in 1677
Rediscovery
Storms and shifting sand buried the wrecked pinnace within several weeks. Sparrow-Hawk remained buried until storms in May 1863 uncovered the hull, which was soon salvaged. Keel, planks, rudder and other hull elements from the Sparrow-Hawk were found in good condition, removed from the beach and carefully reconstructed for subsequent exhibition. She is the earliest ship to participate in the first decades of English settlement in the New World to have survived to the present day.
Description
The remnants of the ship were collected and placed on Boston Common, for viewing in 1865. In 1889, the shipwreck became part of the collection at Pilgrim Hall Museum.
Some experts have identified Sparrow-Hawk as a two-masted pinnace, a small single-decked, square-sterned sailing ship.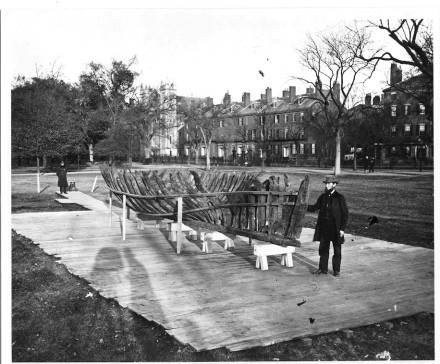 Josiah Johnson Hawes/Pilgrim Hall Museum
| | |
| --- | --- |
| People on board | 25 |
| Length | 40 feet (12.2 m) |
| Width | 12.8 feet (3.9 m) |
| Tonnage | 30 ton (15 last) |
Status
Nothing was ever found identifying the shipwreck's provenance. Not even the boat's real name is known; Sparrow-Hawk is what the discoverers dubbed the 1626 ship they thought they'd found.
Stephen C. O'neill/AP, Washington Post
first-ever scientific study
Mires teamed with Aoife Daly, an expert in dendrochronology and Fred Hocker, an authority on 17th-century ship construction and seafaring, to conduct the first-ever scientific study of the Sparrow-Hawk. The three had worked together in 2011 on the Vasa, a Swedish warship that sank in Stockholm Harbor in 1628.

Aoife Daly
They concluded the wood — mostly oak and elm (Keel) came from Great Britain around the time the Sparrow-Hawk would have been built. Although the analysis cannot prove that this is the ship of 1626, it does show that it is possible. By showing that the ship is built with English timber and is unlikely to be later than the mid-seventeenth century, it indirectly supports the identification. How many other early seventeenth-century English vessels are likely to have been lost in the same place?
References