History
En route from Philadelphia via Halifax to England with a load of peak iron, capsized during stormy weather in the Atlantic Ocean east of Cape Race (Newfoundland) at position 45.52 ° N / 49.10 ° W.
36 people on board died.
Description
Type: Cargo vess
Built: Conrad, Scheepswerf & Werktuigenfabriek, Zaandam, 1924
Owner: N.V. Stoomvaart Maatschappij Nederland, Amsterdam
Dimensions: 128.02 x 16.61 x 10.97 Meters Registered
Tonnage: 4178 tons
Propulsion: Steam, Turbine, power: 2600
Speed in knots: 12
Complement:
Master: Leguit J.,
Status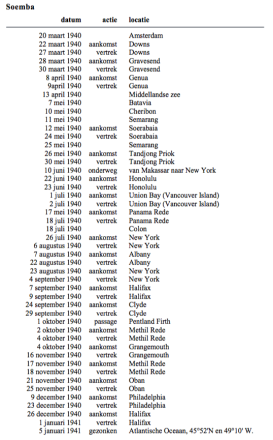 References
Haersolte, J.W.J. van (1947).
Scheepsrampen in oorlogstijd, no. 61.
J.F. Duwaer & Zonen, Amsterdam.
Maritiem Historische Data ID 6025.
Stichting Maritiem Historische Data.