History
SMS Szent István was built just before the outbreak of World War I, as the only dreadnought type battleship built in the Hungarian part of Austria-Hungary. The ship spent almost the entire war at anchor in Pola harbour, leaving port only for gunnery training. Its first and final mission began on 9 June, 1918, when it was ordered to participate in an attack on the Otranto Barrage, which was blocking the Central powers' forces in the Adriatic Sea from access to the Mediterranean.
While Szent István, along with its half-sister ship SMS Tegetthoff and a small escort, was en route to a rendezvous point north of Dubrovnik, the vessel was spotted by two Italian torpedo motorboats. The Italian MAS-15 quickly launched an attack on Szent István, hitting her boiler rooms with two torpedoes. While the Austro-Hungarian ship tried to make it back to the coast, the ship slowly flooded and while sailing in the vicinity of the Croatian island of Premuda, it became clear that the ship was doomed. The final moments of SMS Szent István, during which 89 sailors lost their lives, were captured on film by the crew of Tegetthoff.
Description
Navy: Austro-Hungarian Navy
Class: Tegetthoff-class battleship
Laid down: January1912
Launched: January 1914
Shipyard: Ganz & Company, Fiume
Length: 152,18 m
Beam: 28 m
Draught: 8,6 m
Displacement: 20,008 tons
Armament: four 305 mm guns, twelve 150 mm guns, twelve 66 mm guns, three 66 mm anti-aircraft guns, four 533 mm torpedo-tubes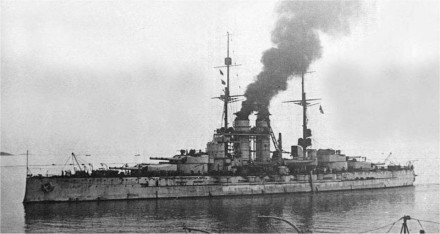 Status
Shipwreck
The wreck of the SMS Szent István was discovered in the mid-1970's by the former Yugoslav Navy near the island of Premuda, and is the largest shipwreck in the Adriatic. SMS Szent István was found lying at a depth of around 68 meters, with her keel pointing to the surface, and has been the subject of many research expeditions since. As a monument of historic technology, the site has been placed under the protection of the Croatian Ministry of Culture, and access to it is restricted.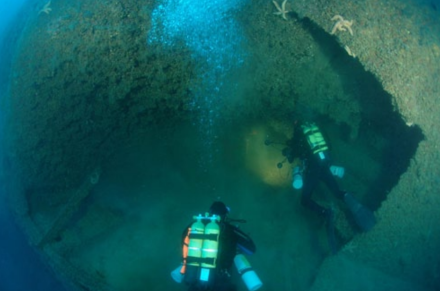 References