History
On 1 April 1910, the last German cruiser with steam engine propulsion - named SMS Emden, after its sponsor city - entered the Kaiserliche Marine. The ship was assigned to the East Asian Station Tsingtao in Germany's Chinse Kiautschou colony, from where it would never return to the homeland.
The ship's career during World War I was short, yet impressive. Under the command of Captain Karl von Müller, the Emden, disguised as the British HMS Yarmouth by means of a fake fourth smokestack, preyed on unescorted English merchant ships sailing the Indian Ocean. Its success caused a panicamong Allied shipping offices in the area. Insurance prices increased dramatically, allowing the SMS Emden to effectively shutdown the entirety of Indian Ocean shipping on its own. Increasing numbers of British, French and Russian cruisers were dispatched to hunt down the Emden, but Von Müller continually succeeded to elude them.
By the end of the first year of the war, the Emden had captured 31, mostly British vessels, and with as many as 60 Allied cruisers in its trail, it had become the most hunted ship in the world. While legend grew, the Emden's run finally came to an end on 9 November, when it encountered the much larger and faster British Australian cruiser HMAS Sydney.
After being struck by over 100 shells, Von Müller beached the Emden on North Keeling island to avoid sinking. Sydney fired several more salvoes on the stranded ship, resulting in the loss of 131 German men. Müller and remainder of crew survived as prisoners of war.
Description
Navy: Imperial German Navy
Class: Dresden-class light cruiser
Laid down: April 1906
Launched: May 1908
Shipyard: Kaiserliche Werft, Danzig
Length: 118 m
Beam: 13,4 m
Draft: 5,3 m
Displacement: 3,364 tons
Armament: 2 rapid fire guns, 2 torpedo-tubes
The SMS Emden was a light cruiser of the Imperial German Navy. After many successful raids on allied shipping in the Indian Ocean, the ship was left heavily damaged by an encounter with the Australian HMAS Sydney at the Battle of Cocos in November 1914, and was intentionally run aground by its captain before being destroyed.
Status
Although parts of the ship were salvaged in the years following its wreckage, a significant part of it has survived in place, at a depth of around 8 meters. The site is classified as an historical shipwreck and is protected under the Australian historical Shipwrecks Act 1976.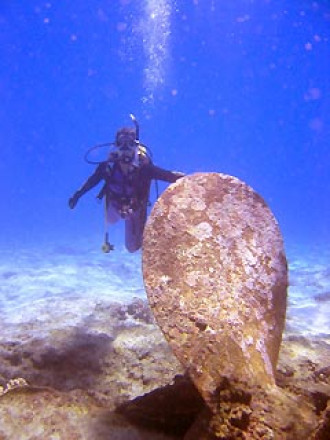 References