History
The Schiedam was originally named De Grote Schiedam of Hoorn.
In 1683 the Schiedam collected a cargo of timber from Northern Spain and continued her voyage round Portugal and past Gibraltar. On 1st August the vessel was captured by Moorish pirates from Salé in Morocco. The crew was transferred to the pirate ship and the Schiedam was sent to Salé.
Ten days later the vessel was captured by an English galley frigate The James. The Schiedam rather than be handed back to the Dutch, was converted into a transport ship for the Royal Navy. Twelve of the remaining Dutch prisoners, originally from the Schiedam, were rescued.
Final Fate
The story takes and unexpected twist when the English were handed control of Tangiers in present day Morocco, as part of the dowry for the Portuguese wife of Charles II.
Unable to defend the town, they decided to pull out and the Schiedam was loaded with supplies of arms and ammunition. Split up from the convey returning home, she found herself trapped in Mounts Bay and ran aground during a storm on April 4, 1684.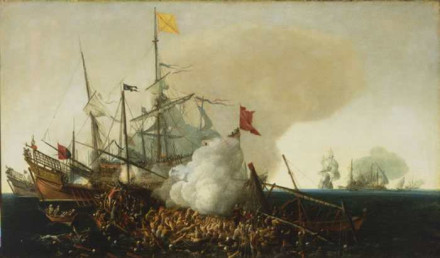 Description
Dutch Fluyt (Noordvaerder) built for the timber trade with Norway. Medium sized flyboat, ca 200 last (ca. 400 tons).
A Fluyt was a cheap design which required only ca. 30 crew to sail them. The narrow decks had a considerable tax advantage but allowed little space for armament, for example the Schiedam only carried four guns.
The ship on the left depicted by Reinier Nooms is a Noordvaerder. Usualy Noordvaerders were not armed. They were designed to carry timber from Norway. The Schiedam was of this type. The ship on the right is an Oostvaerder lightly armed.
Status
De Schiedam was discovered by Tony Randall in 1971. From 1982 she has the designated site status and is protected under the Protection of Wrecks Act 1973. The Protection of Wrecks Act (1973) allows the government to designate a wreck to prevent uncontrolled interference.
Designated sites are identified as being likely to contain the remains of a vessel, or its contents, which are of historical, artistic or archaeological importance. The site has since been excavated and monitored over a number of years, from the time of its discovery in 1971 up to the present day. The site is centred on the cannons, which lie in an area of rocky seabed close to the shore.
References