History
One of the unfortunate ships that sunk during the Christmas Night of 1593 was the Scheurrak SO1. The wreck turned out to be that of a Dutch merchant ship with a cargo of (still well preserved) Baltic wheat.
Archaeology
The wreck was excavated by the Netherlands Institute for Ship- and underwater Archaeology (ROB/NISA) between 1989 and 1997 when the NISA developed ways to do archaeological research in muddy waters.
Finds from the wreck
In the Scheurrak SO1 wreck several types of weaponary were found. Amongst them were four iron cannons (gotelingen) and five small carriages (with three wheels). The munition of the cannons varied from 6-8 cm 2, 3 and 4 pounders. Also seven haakbussen, and some muskets were found.
Special finds
A special linstock has been found in the wreck. A linstock (also called a lintstock, adapted from the Dutch 'lontstok' or 'match stick') is a staff with a fork at one end to hold a lighted slow match. Linstocks were used for discharging cannons in the early days of artillery. This linstock is special because it is has a poem on its rim, and we have the name of the poet.
In old Dutch the poem goes like:
Die avent en die muierghen zyn niet even goet
Den moerghen moet sorghen dat den avent niet en doet
Soude den avent sorghen als den morghen doet
Daer soner menigh ryen die nu gaen tefoet.
- Bymy cornelis clasoon van block dick ffff anno 1590.
In English:
The evening and morning are not equaly good
The morning has to make what the evening does not
Should evening make what morning does
Then many would ride who are now on foot.
- Made by me Cornelis Claaszoon van Blokdijk in the year 1590.
In Blokdijk, a small village near the city of Hoorn lived a sailor. His name was Corneliszoon Claesz van Westerblokker 23 years old. He was constable (bosschieter). So it is very probable that he was the man who wrote the poem on the stick.
Special finds
Decorated wooden box, containing the accoutrements of an official: a pair of slippers, a gavel, a set of ceremonial batons, a signet and a chunk of sealing wax.
Description
The wreck was not yet evolved into a regular fluyt ship (Oostervaerder), but it had features of the fluyt. It was a merchant vessel for the Baltic trade.
The design of fluyts was largely similar to that of the early galleons. It generally weighed 200-300 tons and was 80 feet long. The pear-shaped vessel had a large cargo bay near the waterline and a relatively narrow deck above. This was a way to avoid high taxes collected by Denmark in the Oresund, which was assessed based on area of the main deck.
The fluyt was square rigged with two or three masts. Masts were much higher than those of galleons to allow for greater speed.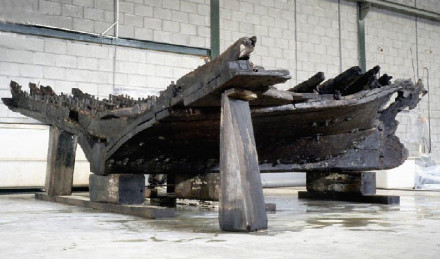 References