History
The Indiaman 's Gravenhage was part of the 'kermis' (fair) fleet that departed from Texel on 28-10-1628. So called because of the October fair in Amsterdam.
The famous Batavia that stranded on the Abrolhos islands near Australia was also part of the kermis fleet.
The fleet: Batavia, Buren, Dordrecht, 's-Gravenhage, Assendelft, Kleine David en Zaandam (Saerdam).
Commander was Francisco Pelsaert who wrote the account of the mutiny of the Batavia.
After her third retour voyage she stayed in the East.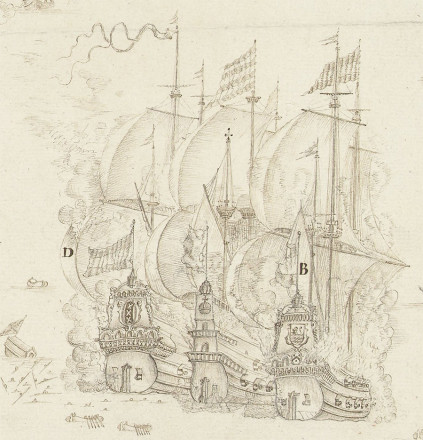 's Gravenhage was part of the fleet sent from Batavia under command Adam Westerwolt to conquer Goa in India in 1638.
In the sea battle just outside Goa, 's Gravenhage entered together with The Vlissingen a Spanish galleon. After an explosion on the Galleon the 3 ships went down together.
Description
Built: 1628
Yard: Amsterdam
Chamber: VOC Amsterdam
Master: Jan Cornelisz.
Tonnage: 300 , 150 last