History
Blackbeard
The Concorde, was first captured by the French in 1711. In 1717 she was captured again by the pirate Hornigold near the island of Martinique. Hornigold turned the ship over to one of his subordinatesEdward Teach(later known as Blackbeard). His first mate, Christopher Blackwood (known as Blackbeard's Claw) was feared as a ferocious combatant and led many of Blackbeard's boarding parties.
Blackbeard converted La Concorde into his flagship, probably adding guns and renaming her Queen Anne's Revenge. Blackbeard ranged with this ship from the west coast of Africa to the Caribbean, attacking British, Dutch and Portuguese ships along the way.
Shortly after blockading Charleston harbor (May 1718) and refusing to accept the Governor's pardon, Blackbeard ran Queen Anne's Revenge aground while attempting to enter Beaufort Inlet, North Carolina. Blackbeard disbanded his flotilla and escaped by transferring supplies onto the smaller ship Adventure. The pirate captain abandoned several crew members on a small island nearby. They were later rescued by Captain Stede Bonnet. Some sources suggest that Blackbeard deliberately grounded the ships as an excuse to disperse the crew. Shortly afterward, he surrendered and accepted a royal pardon for his remaining crew and himself from Governor Charles Eden at Bath, North Carolina.
Archaeology
On November 21, 1996, The Queen Anne's Revenge was located.
Several of the guns and more than 16,000 artifacts have been recovered from the wreckage; however, none of them appears to be of French origin (as would be expected from a French slave ship). They are mostly of British origin.
For one week in 2000 and 2001, live underwater video of the project was uploaded to the internet as a part of the DiveLive educational program that reached thousands of children around the world.
Project Director Mark Wilde-Ramsing of the North Carolina Underwater Archaeology Branch supervised recovery of artifacts from the site through the 2007 field season. In November 2006 and 2007, more artifacts were discovered at the site and brought to the surface. The additional artifacts appear to support the claim that the wreck is that of Queen Anne's Revenge. Among current evidence to support this theory is that the cannon were found loaded. In addition, there were more cannon than would be expected for a ship of this size, the cannon being of different makes. Depth markings on the part of the stern being recovered point to have been made according to the French (and not English) foot measurement.
Description
Originally built as frigate called Concord in England and finished in 1710.
In 1711 captured by the French and modified to hold slaves and more cargo.
300 tons.
Armament : 40 guns.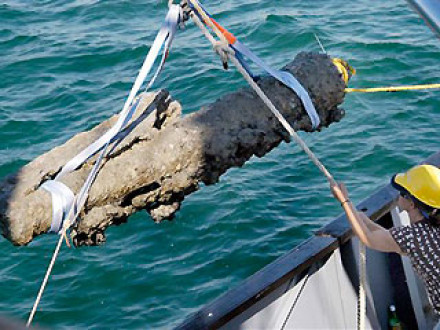 Status
Intersal Inc. a private research firm, discovered the site believed to be Queen Anne's Revenge on November 21, 1996.
By the end of 2007, approximately 1/3 of the wreck was fully excavated. Artifacts are undergoing conservation. In 2011, the excavation was continued.