History
The SS Prince Maurits was the successor of the Prince Maurits 1 who was wrecked near Venezuela in 1899. (shiplist)
The Paketboat was on its way from New York to the Caribbean. Wrecked with all hands during a hurricane 90 miles from Cape Hatteras (USA). There were 49 people on board.
The Prince Maurits sailed for the Royal West India Mail Service (KWIM), which was based in Amsterdam. The shipping company existed between 1882 and 1927.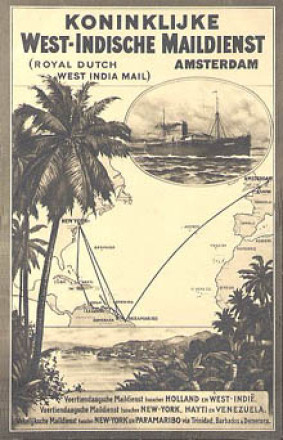 Commenced services from Amsterdam to Dutch Guiana and the West Indies in 1883. In 1888 services were extended to New York The Koninklijke West-Indische Maildienst was taken over in 1912 by Koninklijke Nederlandsche Stoomboot Maatschappij (KNSM) but their ships and crews were kept seperate until 1927 when KWIM was officially liquidated.
Description
Type: Passenger-/cargo vessel Steamship
Built: Blohm & Voss K.G.a.A., Hamburg, Germany
Motor: Steam, Triple Expansion
Owner: N.V. Koninklijke West-Indische Maildienst, Amsterdam
passenger accomodation 84
| | |
| --- | --- |
| Master | Boer, N.A. de |
| Power | 1300 hp |
| Speed | 10 knots ~ 12 mph (19 km/h) |
| Length | 284 feet (86.6 m) |
| Width | 38 feet (11.6 m) |
| Draft | 19.8 feet (6 m) |
| Tonnage | 2121 ton |
References