History
De Prins Maurits werd tijdens de slag bij Lowestoft op 13 juni 1665 betrokken bij een hoogst ongelukkig incident. Drie Nederlandse schepen kwamen met hun tuigage in elkaar verstrikt. De schepen Koevorden, Utrecht en de Prins Maurits konden niet meer manoeuvreren. De vastzittende schepen werden een gemakkelijke prooi voor een Engelse aanval met een brander. Alle drie gingen ze brandend ten onder.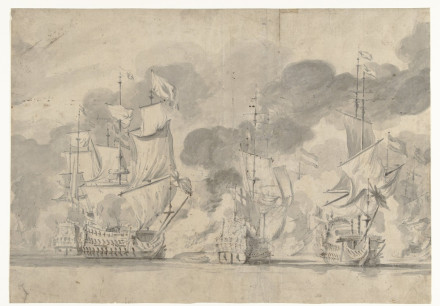 RP-T-00-390-web
Lowestoft
De slag was sowieso een ramp voor Nederland. De Eendracht het schip van de bevelhebber Wassenaar Obdam vloog in de lucht door een voltreffer in de kruitkamer. De slag werd verloren.
Acht schepen gingen direct tijdens de slag verloren op zee verloren. Negen schepen werden veroverd door de Britten. De rest kon ontkomen. Maar bij thuiskomst bleken nog eens acht schepen zo beschadigd dat ze moesten worden afgeschreven. (de Luypaert, Rotterdam, Groot Zutphen, Prinses Royaal, Wapen van Monnickendam, Maaght van Enckhuyzen, en de fregatten Oranje en Brielle)
buitgemaakt: de Hilversum, Delft, Zeelandia, Wapen van Edam en de Jonge Prins; het VOC-schip Nagelboom en de koopvaarders Carolus Quintus, Mars en Geldersche Ruyter.¹
Lijst van schepen op 13 juni 1665 tijdens de slag bij Lowestoft.
Description
Naam: Het schip kreeg eerst de naam Gelderland daarna herdoopt in Prins Maurits
Gebouwd: Rotterdam door Jacob Wittert in 1653


| | |
| --- | --- |
| Length | 134 feet (40.8 m) |
| Width | 33 feet (10.1 m) |
| Draft | 13 feet (4 m) |
References
NIMH scheepsdocumentatie nr 754.
Bender J.A.
Dutch Warships in the Age of Sail 1600 - 1714 p. 184.