History
Polstjernan was a four-masted gaff-schooner from Mariehamn (Åland Islands, Finland), built 1919 in Dragsfjärd. The vessel was fitted with an auxillary machine and when she was launched, Polstjernan was considered the largest wooden vessel built in Finland.
In late 1926 the vessel carried a cargo of timber from Finland to England. While transitting Kiel Canal, the machine exploded on 20th October, setting the vessel ablaze. The wreck was still floating and obstructed navigation in the canal, so a salvage company was commissioned with towing the wreck away to its new location in Blankenese, where it served as breakwater ever since.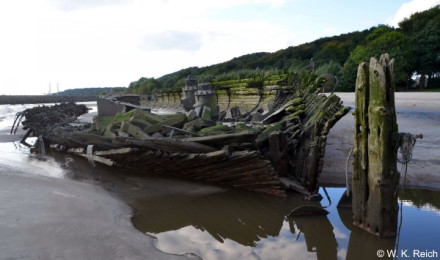 Description
In order to serve its new purpose as breakwater, the wreck was ballasted with boulders. In 1947, debris from a scrapped submarine was also dumped into the wreck as additional ballast.
| | |
| --- | --- |
| Power | 240 hp |
| Speed | 6 knots ~ 7 mph (11 km/h) |
| Length | 219.8 feet (67 m) |
| Draft | 18 feet (5.5 m) |
| Beam | 42.3 feet (12.9 m) |
Status
Today, the wrecks of Polstjernan and Uwe are popular spots for sightseeing and scenic photographs. They are fully visible at low tide. They have become landmarks appreciated by locals and visitors alike. Rumours that the wrecks shall be removed were refuted by the Hamburg Port Authority (HPA) in 2018.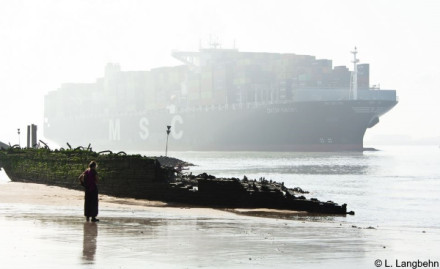 References
Kåhre, G. Kåhre, K. (1988).
Den åländska segelsjöfartens historia.
Karting, H. (2006).
POLSTJERNAN - Ein glückloser Viermastschoner aus Finnland.
Das Logbuch, 4, 177–181.