History
The ship was sent to Port Arthur in October 1901 where she was assigned to the Pacific Squadron. During the the Russo-Japanese War (1904-05) she was attacked and hit by the Japanese fleet. Shewas able to reach Port Arthurwereguns were stripped from the ship to reinforcethe defenses of Port Arthur. The Japanese army reached higher ground with her siege guns and hit the Peresvet many times.
After the end of the war, she was refloated by Japanese engineers on 29 June 1905, reconstructed and was taken into service as the Sagami. The ship was thoroughly rebuilt at Yokosuka shipyard between 1905-08. Sagami was re-designated as a first-class coastal defense ship in April 1908.
When in World War I Japan and Russia became allies the ship was sold to Russia(March 1916). She arrived in Vladivostok on 3 April 1916, where she resumed her former name of Peresvet and was classified as an armored cruiser. On her way to the Russian Arctic flotilla she paused in Port Said, Egypt at the beginning of 1917. On the 4th of January just 10 miles from Port Said she struck two mines and catched fire. 167 men died.
Description
Name: Peresvet / Sagami
Navy: Imperial Russian Navy / Imperial Japanese Navy
Class: Peresvet-class, pre-dreadnought battleship
Laid down: November 1895
Launched : May 1898
Shipyard : Baltic Yard, St.Petersburg
Length: 132.4 m
Beam: 21.8 m
Draft: 7.9 m
Displacement: 13,534 tons
Armament: Two 254 mm, eleven 152 mm, twenty 75 mm, twenty 47 mm and eight 37 mm guns, five 381 mm torpedo tubes, 45 mines
Originally built for the Imperial Russian Navy, the Peresvet served the Japanese navy between 1905-1916 as the Sagami, before it was resold to the Russians.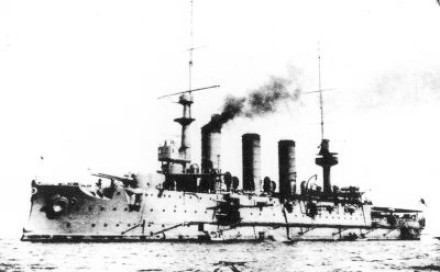 References