History
The SS Palembang departed on 17 March with a general cargo from Rotterdam destined for Batavia. She headed for London where more cargo was to be taken in.
At 11:30 am on 18 March 1916, 1½ miles north of the Galloper Buoy, they were approached by an English destroyer, which berthed half a mile from the Palembang to detonate a detected seamine.
Immediately afterwards, a second explosion took place, after which the stern began to sink. As the 55 members of the crew and the 2 passengers were leaving the ship, a third explosion occurred amidships.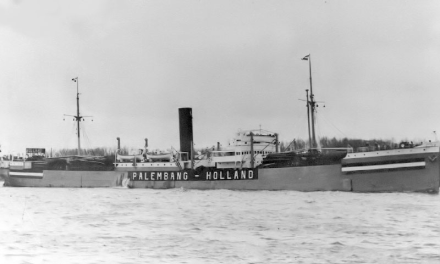 Stichting Maritiem historische databank
The ship sank very quickly. Everything happened in just seven minutes. The passengers were rescued by the British destroyer H.M.S. Mansfield rescued and landed at Harwich. one person on board, a Javanese servant, was found missing.
The other 56 people made it to land safely. The Palembang had run on two mines laid by the German submarine UC 10 on March 17, 1916.
Description
Type : steamer, three decks
Built: Bonn & Mees, Rotterdam/Katendrecht (NL)
| | |
| --- | --- |
| Master | Visser, C.W. |
| People on board | 57 |
| Length | 432 feet (131.7 m) |
| Width | 54.3 feet (16.5 m) |
| Draft | 34 feet (10.4 m) |
| Tonnage | 6674 ton |
References