History
Archeology and history
The wreck was discovered on plot 36 OZ in the Flevopolder. The Flevopolder was part of the Zuiderzee, which is now reclaimed land. The Zuiderzee was an important inner sea that served as a transport hub in the central Low Countries for centuries. 450 shipwrecks are found in the province of Flevoland. 80 of these wrecks still lie buried in the soil and each year 1 or 2 new shipwreck sites are discovered. The OZ 36 was discovered in 1981 and excavated in 1983. Wood samples from the OZ 36 suggests a building date after just 1335 AD. The used wood for the construction was made of local wood (region Apeldoorn, Veluwe). The OZ 36 was probably deliberately sunken.
Description
Type: The OZ 36 was a 14th century cog. The cog was a spacious transport ship. Especially used during the Hanseatic period ca. 1200-1500 AD in Northwestern Europe. The bulk carrier of its time so to speak. OZ 36 is one of the best documented and researched Cogs.
Length: 21.58 m, Keel: 19.6
Width: 6.56 m
Speed: 7.7 kt.
Draught: 2.2
Sail: 140 m2
Capacity: 60 tons
Length: width = 2.5 (compare an East Indiaman 4.2)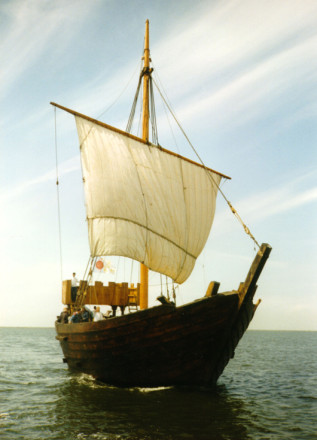 References
Reinders, H.R. (1985).
Cog finds from the Ijsselmeerpolders.
Flevobericht, nr. 248.