History
Description Oostvoornse Meer
The Oostvoornse Meer is a lake created in the 1960's, when the mouth of the Meuse near Briel was closed. It once was a busy shipping route and most sites are 17th century shipwrecks. The wrecks are probably a result of a shallow sandbank called "De Hondenplaat" and the ships will have sunk rapidly due to the tides and river streams.
After the closing of the Oostvoornse Meer, sand excavations begun for the construction of Maasvlakte 1 and shipwrecks were revealed. Because the Oostvoornse Meer is situated at the estuary of the Meuse, a thick layer of silt was present. The sediment had highly preserved the remains and the sand excavation exposed and disturbed many wrecks. Because of the exposure of the wrecks, they were now vulnerable to illegal excavations and natural threats,like the shipwormTeredo navalis. In the Oostvoornse Meer more than a dozen shipwrecks are known, many of which are affected by the shipworm.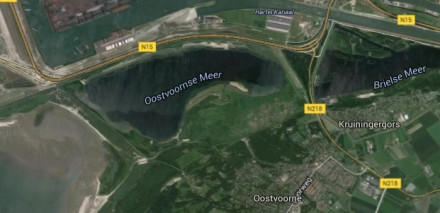 Description
In 2014 an inspection dive was made to several wrecks in the Oostvoornse Meer, including a dive to the Oostvoornse Meer 10 (OVM 10). The wreck site contains two locations on both sides of a small hill, an eastern location and a western location, with 20 meters in between. It is possible the wreck site contains two shipwrecks.
During the inspection a lot of lose ship parts, some still connected, were found on both locations. Among these parts are thin shell plankings and heavy beams. These outer layer of the beams have been affected by the shipworm. The inside of the beams have not yet been affected by shipworm activity
A wood sample taken by sport divers had been dated to 1596. In combination with the inspection dives in 2014, the ship has, for now, been dated in the early 17th century.
Description
The Oostvoornse Meer 10 is a wooden shipwreck found in the Oostvoornse Meer, the Netherlands. The site possibly contains two shipwrecks, although that is not clear yet.