History
Langs de Eendenweg, op kavel E14 in Oostelijk Flevoland, is in 1968 een scheepswrak aangetroffen. In hetzelfde jaar is een verkenning van de scheepsresten uitgevoerd. In 1973 is het wrak opgegraven. Het bleek te gaan om een praamachtig vaartuig met een lengte over de stevens van 20 meter bij een breedte van 3,5 meter en een holte van 1,9 meter. Bij een diepgang van ongeveer 1,6 meter bedroeg de tonnage ongeveer 55 ton. De bouwdatum van het schip is niet bekend: jaarringonderzoek is niet uitgevoerd, zodat de kapdatum van het hout onbekend is. De ondergang kan op basis van de samenstelling van de inventaris worden gedateerd na 1783. Het schip is redelijk goed bewaard gebleven. Het vlak en de gehele bakboordzijde waren nog aanwezig. Het vlak was karveel gebouwd, terwijl de gangen van de zijden elkaar overlapten. De overgang tussen vlak en zijden was abrupt; het schip had een hoekige kim. Uit het houtgebruik blijkt dat de scheepsbouwer het hout zo efficiënt mogelijk heeft gebruikt. Het vlak heeft het uiterlijk van een mozaïek: veel korte en asymmetrische planken zijn gebruikt, waarin de vorm van een boomstam is te herkennen: breed aan één kant en smal aan het andere uiteinde. Op deze manier konden maximale plankbreedtes uit een stam worden gehaald. Het gebruikte hout is ook van slechte kwaliteit. Dat heeft geresulteerd in veelvuldige reparaties, die de zeewaardigheid en de gebruiksduur van het schip negatief zullen hebben beïnvloed. Het schip was voorzien van zijzwaarden, waarvan er één in het wrak is teruggevonden. Ook het onderste deel van het roer is aangetroffen. Eventuele lading is niet gevonden. Het schip kan dus geladen zijn geweest met een lichte lading die gemakkelijk wegspoelt, zoals turf of hooi. De inventaris van het schip is incompleet, mogelijk zijn voorwerpen weggespoeld of geborgen.
Description
Een praamachtig vaartuig uit de achttiende eeuw, Lelystad
Status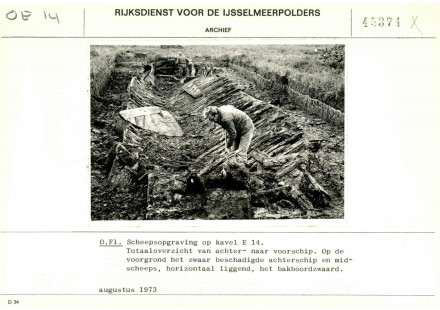 References
Holk, A.F.L. van (1996).
Archeologie van de binnenvaart: Wonen en werken aan boord van binnenschepen (1600–1900).
Lelystad: Nederlands Instituut voor Scheeps- en onderwater Archeologie/ROB (NISA).
Batavialand te Lelystad, Maritiem Archeologisch Depot.
Opgravingsdocumentatie scheepswrak OE14.