History
The ship Nieuwerkerk wrecked in 1748 when she was travelling on a voyage from Batavia to Banda. It was the fourth time the Dutch East Indiaman reached the East for the trade of products such as spices and ceramics. The DAS database states Jan Akkerman was the master of the ship on its last voyage. Two other masters (Francois Pennink and Reinier van der Luchten) are mentioned. The ship failing to reach Banda had an immense impact on life on Banda. Not only did the Nieuwerkerk wreck on her way to Banda, but the Maarsseveen and Leeuwerik were also lost during their trip to Banda from Batavia. These ships carried supplies meant for Banda, and their loss led to a lack of rice in Banda.
Description
The Nieuwerkerk was built in Rammekens for the Zeeland Chamber of the VOC. She carried 230-300 souls.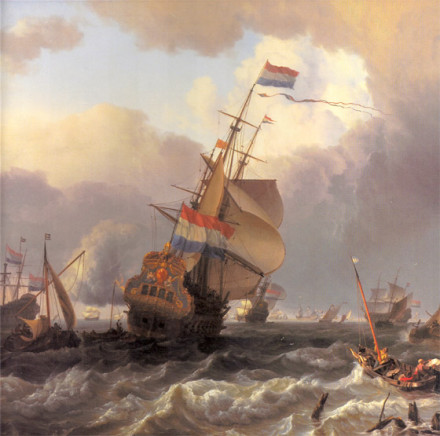 | | |
| --- | --- |
| Master | Jan Akkerman |
| Length | 145 feet (44.2 m) |
| Tonnage | 1135 ton (568 last) |
Status
The wreck of the Nieuwerkerk was discovered and excavated by the salvage company Maritime Explorations. This project was led by Michael Flecker, who is the director of the company Maritime Explorations. Reports regarding this excavation are not available at the moment and have yet to be released. Archaeologically we can thus provide no information on the state of the wreck site and its mobilia. Hopefully, an excavation report will be available in the future.