History
Historical description
The Nieuw Rhoon was Dutch East Indiaman homebound from Ceylon to Holland. It was her fifth journey. and the ship was under the command of Jacob Koelders.
When The Nieuw Rhoon arrived at the Cape she was taken out of the service. The condition of the ship had deteriorated so that she became unsea worthy. When attempting to enter Table Bay the ship was driven upon a reef(presumably "whale rock") near Robben Island by a violent South-Easter. She hit the reef hard and a big leak was caused. The Nieuwe Rhoon was damaged in such a way that she was got off and brought up to the anchorage. It was necessary to beach her by the jetty to save her cargo. The ship was laid up at the cape on the first of March 1776. The cargo of the Nieuw Rhoon was transported to Amsterdam by another ship: the Patriot. (DAS reference 7948)
Archaeological description
The ship was known as the "civic centre ship" due to the location where she was found. They found herduring theconstruction of the Civic Centre Building on the foreshore of Cape Town in 1970. It was not a complete surprise to find a shipwreck at that location as it used to be a large mooring ground for sailing ship in Table Bay.
The surviving structure of the ship comprised of parts of the lower hull on both sides of the keel. However, when found some was recovered and photographed but no timber was preserved. Only artifacts remained of interest. Artifacts of the Nieuw Rhoon included ceramics such as Chinese porcelain, shots and clay pipes. Concretion of black pepper was also found, confirming that this ship is indeed a homeward bound East Indiaman.
The pine sheathing of the wood at only been nailed once indicating a relatively new vessel, since 3 or 4 sheathings were common during the lifetime of a ship. The pine sheathing was applied as protection from elements such as shipworm (teredo navalis).
Description
General information:
Name: Nieuw Rhoon
Type: East Indiaman
Built: 1764
Yard: Middelburg, Zeeland
Chamber:Amsterdam
Tonnage: 1150
Length: 150 feet
Complement: 312-353
Master: Jacob Koelders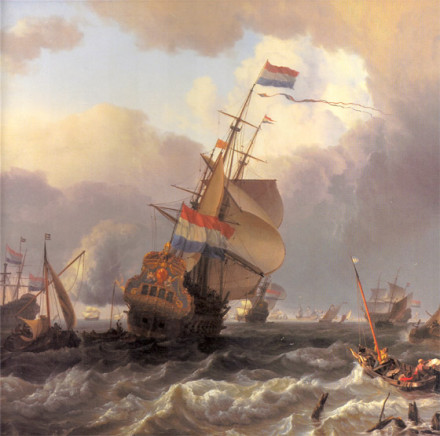 Status
Protected in terms of the National Heritage Resources Act, No.25 of 1999. This act regards historic shipwrecks as well. The site may not be disturbed without permission of the South African Resources Agency (SAHRA) and artifacts removed from the wreck may not be traded without SAHRA's permission.