Description
This unidentified wreck was visited by wreck-divers who recovered a bearing plate with a Kriegsmarine stamp, thus indicating that it must have been a German navy vessel sunk in World War II.
In the midship section, one and another partially destroyed hatchway was observed. Behind the hatchways are the fuel tanks. The broad transom stern is a very notable feature.
The uncommonly narrow length-to-beam ratio and the wooden construction point to an E-boat (Schnellboot) or minelayer. The remains of the collapsed deckhouse are situated near the stern section, which would have been unusual for an E-boat.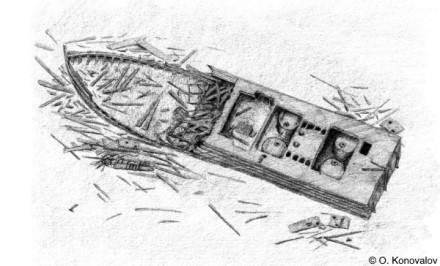 The stempost of the vessel is well visible.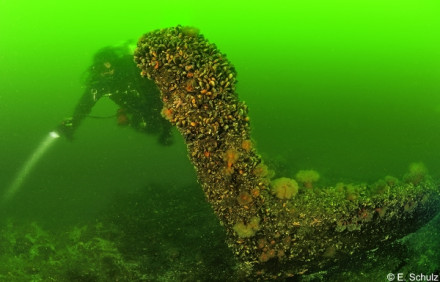 Among the scattered remains of the wreck are also several single finds, like a K98 rifle, one of the most common rifles of the Wehrmacht.
| | |
| --- | --- |
| Length | 65.6 feet (20 m) |
| Width | 13.1 feet (4 m) |
Status
This wreck was discovered at a depth of 19 metres during a survey routinely carried out in 1981 by the Federal Maritime and Hydrographic Agency of Germany (BSH: Bundesamt für Seeschifffahrt und Hydrographie).
The wreck is overgrown by anemones and is reasonably well preserved. However, the bow suffered considerable damage through trawling gear.
Some footage of the wreck can be viewed in the video below.
References
Oppelt, I. (2019).
Wracktauchen: Die schönsten Tauchplätze der Ostsee.
Wetnotes.